Atlantic Yards in 2012: A huge debut for Barclays Center; lingering taint and questions mostly pushed aside by arena events, pro sports, and lauded building
#HelloBrooklyn. (Or was that
Crooklyn
?)
The year 2012 marked a seismic shift in the Atlantic Yards saga. The conflict over the project, and lingering questions over the promises behind it, were mainly supplanted by celebration of and hype for the Barclays Center (and events within) and Brooklyn Nets.
Not only did most press coverage come from the sports and entertainment media, rather than the potentially more skeptical Metro pages, the buzz was compounded by something arena developers surely didn't imagine when Atlantic Yards was announced in 2003: social media.
Fractional team/arena owner Jay-Z--far more important than developer Bruce Ratner could've imagined--generated huge headlines and social media impact with his eight straight concerts, purported design of the Nets' black-and-white logo, and even a viral encounter with a lady on the subway. He even made the cover of the New York Times T Magazine supplement, interviewed by a genuflecting Zadie Smith.
Meanwhile, there was much paid media, with the Brooklyn Nets producing a skein of sponsorships and saturation advertising. Nets' merchandise flew off the shelves Even if it remains unclear exactly how much of "Brooklyn" has embraced the team, "Brooklyn" remains a potent signifier.
For Forest City Ratner, there was a value to the project delays. With no
flagship tower
looming at the intersection of Atlantic and Flatbush avenues, the arena and project make a more modest impact, and the temporary plaza seems public, the temporary oculus--with its digital signage--already iconic to some.
The new subway entrance
The enormously valuable new transit entrance is public, not buried within an Urban Room attached to a giant office tower. And the Atlantic Avenue/Pacific Street subway hub was not
co-named
with the name Barclays but rather saw Barclays Center replace Pacific Street.
Meanwhile, the march of other towers to the north on Flatbush Avenue has softened the impact of the planned Atlantic Yards towers, at least on arena block.
But no one's reckoned with the project as a whole; such renderings don't exist. (Remember planner Ron Shiffman's 2006
warning
, "The density proposed by Forest City Ratner far exceeds the carrying capacity of the area's physical, social, cultural, and educational infrastructure.")
Is AY done?
Atlantic Yards may seem
done
, as the controversy has mostly subsided, but it's not; the cumulative impacts of the entire project--not just the arena--are what alarmed people and, indeed, the lingering court case reminds us that there are 16 towers to be built.
The larger issues--the taint over the arena process--have been nudged aside by most though not forgotten. There were still protests.
And even the New York Times, which displayed
notably variable
coverage,
cited
that Bruce Ratner's " reputation for promising anything to get a deal, only to renegotiate relentlessly for more favorable terms."
I call this all part of the
Culture of Cheating
.
But even legitimate stories have been mostly ignored by the media: court decisions ordering the state to perform a Supplementary Environmental Impact Statement on the impact of a potential 25-year buildout; the demise of Community Benefits Agreement signatory BUILD, the failure to provide the promised 2,000 $15 tickets before each game. (Forget complicated stuff like the funding from immigrant investors.)
Could it hurt to have the Daily News as your partner on the plaza? Do media outlets depend too much on Barclays ads? Or is it just media fatigue?
Atlantic Yards, I wrote last year, "will be a case study in public relations." Developer Bruce Ratner this year
claimed
that, in 100 years, "No one will care what we had to do to make it happen." (Maybe, but for now, and we'll remember.)
Making their luck
Though arena developers--Forest City Ratner, with Mikhail Prokhorov's Onexim Group--spent big money on advertising and promotion, they did several things right, enough to ensure that most coverage--from a press generally willing to be spoon-fed--focused on the positive:
they hired SHoP to put that lizard skin on (and revamp) an Indiana barn of an arena (and none of the enthralled architecture critics mention the missing office building)
they hired locally and trained workers to be pleasant (though most jobs pay low, part-time wages)
they involved Brooklyn food vendors (though under the corporate umbrella of Levy restaurants, and at high prices)
they got it all open in time (though without the promised community events pre-opening)
they gave away tickets to local nonprofits (though the promise of 2,000 $15 tickets was something of a dodge, and there have been no community events)
big-name concerts were a huge success (even if promised monthly boxing turned into quarterly, at best)
Beyond that, Forest City announced an innovation in modular construction (thus avoiding questions about too little affordable housing and cuts in worker compensation if not hours).
SHoP, the hot local architecture firm hired has turned out to be a much better fit, after all, than Frank Gehry. The latter's fame may have been necessary to get Forest City support and publicity, but Gehry had the unfortunate habit of shooting off his mouth, cracking that protestors "should've been picketing Henry Ford" and calling Bruce Ratner "do-gooder, liberal," just like him. SHoP principals have been good, creative soldiers, fulling that $54 million investment (the new facade), made, as Forest City
would say
, "for public reasons."
Navigating the tight fit
Banners that came and went in Prospect Heights
There were big media bounces from headliners like Barbra Streisand, the Rolling Stones, Justin Beiber, and Andrea Bocelli--most but not all unlikely to play Barclays regularly. (Bieber will be back, as will Jay-Z).
Perhaps the biggest fear--Carmageddon from traffic jams--has been averted, thanks to use of transit and a heavy police presence, neither of which Forest City will pay for.
Still, there's little margin for error and, as documented steadily by
Atlantic Yards Watch
, out-of-control fans (as with Bieber), idling limos (especially from expensive concerts), booming bass (from a couple of bass-heavy concerts) and chaos on Park Slope streets (often), the nearest neighbors still bear the brunt of an arena encroaching on residential districts.
Building on Brooklyn
"Brooklyn will become a chant," promised the Nets' advertising and, indeed, it did, bolstered by a surprisingly good team anthem (but not by a cartoonish mascot). "September is just the beginning," promised another ad.
The Nets have been bolstered by two flattering tv/web series,
The Association
(from NBA TV) and
Road to Brooklyn
(from Jay-Z's Life+Times channel). Team owners have done their best to make a connection with the Dodgers.
Despite bad luck in the draft and free agency, the Nets achieved a rapid roster revamp, with Mikhail Prokhorov opening his wallet to (over)pay for Joe Johnson and re-sign Deron Williams. In November, that looked golden, as the Nets streaked to victory. In December, the team floundered, leading to the firing of the coach.
And there was more. Indeed, in October came the surprising news that the New York Islanders, mired in an antiquated arena on Long Island, would move to Brooklyn in 2015, if not sooner, and move to an arena distinctly made for hoops, not hockey--but able to take advantage of public transit and a lucrative TV contract.
Changing accountability landscape
Despite a significant moral victory in court, and a couple of protests, project opponents and critics generally diminished their activity. Though Develop Don't Destroy Brooklyn and BrooklynSpeaks (and its component groups) were joined by others in the protests, the single busiest initiative, understandably, was
Atlantic Yards Watch
, tracking the impacts of the project.
The valuable compendium No Land Grab ceased regular publication after the arena opened, and a New York Times article chronicled those "exhausted" by losing the battle--but failed to point out the community victory in court and the ongoing need for oversight and skepticism.
"There's nothing I want more than not to be involved," Peter Krashes, active in AY Watch, told the Times. "The problem is, only when paid professionals working in the public interest are doing their jobs do I get to go away."
Council Member Letitia James and state Senator Velmanette Montgomery appeared at protests. Council Member Steve Levin convened meetings about arena impacts. While the project may have a role in local politics--even State Senator Eric Adams and Assemblyman (now Congressman-elect) Hakeem Jeffries held a protests about delayed benefits-- the arena has an unmistakable gravitational pull.
There were more Brooklyn elected officials at the arena ribbon-cutting than at the 2010 groundbreaking, and a few different ones at the groundbreaking for the first tower, B2. And critics and opponents have been placed in the somewhat awkward position--which should be occupied by Ratner's allies--of pointing out the failure to produce promised jobs and housing.
January
Company fabricating arena's metal facade
shuts down
. Arena completion date
nudged back
; site work could continue almost to opening.
Atlantic Yards construction worker
uproots
"No Standing" sign to get free parking on Pacific Street.
Forest City Ratner
says
it's done nothing "inappropriate" in regard to the sequence that led to guilty pleas by state Sen. Carl Kruger and lobbyist Richard Lipsky. Well, nothing illegal.
MSBNC publishes a Mikhail Prokhorov
profile
by Robert Windrem, whose role as "Net Income" of NetsDaily goes unmentioned.
Times columnist Michael Powell
describes
Bruce Ratner as a "developer between legal clouds"--regarding the Yonkers case and the Carl Kruger case Betsy Gotbaum
defends
Ratner; it's
a birthday present
.
A look at the Nets'
media strategies
: a press release a day, never discuss ticket giveaways.
Forest City Ratner's
designed lurker
and his powerful familial ties.
Where's the Independent Compliance Monitor? Brooklyn Eagle gets
evasive responses
.
Elected officials Adams, Jeffries, Camara
criticize
lack of Atlantic Yards jobs, housing, seek governance reform. Montgomery, James
missing
. Adams & Camara probably won't get Forest City campaign cash
any more
.
Gerrymandering (like the "Bed-Stuy boomerang" for Atlantic Yards) is just fine for immigrant investor EB-5 projects,
according to
the federal agency in charge.
Former Atlantic Yards point man Jim Stuckey, who resigned suddenly from his NYU position, is
sued
for sexual harassment.
Groundbreaking for first residential tower again
pushed back
; goal of more larger units won't be met.
Transportation Demand Management plan
delayed
; Nets then
survey
fans. TDM plan
criticized
.
It turns out MWBE contracting numbers
lag behind
ambitious promises.
February
Even interviewed by a friendly publication, Bruce Ratner
verbally "snaps"
when asked about the non-arena parts of the project.
In his State of the Borough address, Borough President Marty Markowitz
talks up
the possibility of the Nets getting free agent center Dwight Howard.
Forest City Enterprises makes
corporate shifts
, finally installing majority of independent directors.
Carlton Avenue Bridge
delayed
, setting up breakneck pace to get it done; construction
until 3 am
. Arena
said to
be "slightly ahead of schedule," thanks to changed schedule.
New
schedule
for arena exterior.
Wall Street Journal graphic
Forest City executive Sanna's
bundling
for Bill de Blasio.
The
perils
from car stackers at arena parking lot: noise and delays.
Steiner
plans
52-story tower, The Hub, near BAM and arena.
Appeals court
argument
on Atlantic Yards timetable case.
Investor
buys building
scheduled for second round of Atlantic Yards eminent domain, suggesting condemnation won't be coming soon. Six-story building planned at
Bergen Tile site
across from arena at Flatbush and Dean.
In City Limits
package
on Atlantic Yards, Bertha Lewis is said to claim "that that some who opposed the Community Benefits Agreement privately lambasted the idea of having a 'high-rise ghetto.'"
Goldman, Sachs seems to schedule a meeting of the Brooklyn Arena Local Development Corporation; it's
canceled after some inquiries
.
A
mountain of soil
on Block 1129.
The
Mystery of Ridge Hill
. The curiously
timed
departure
of Forest City's Bruce Bender and Scott Cantone.
Columnist Powell
"tracks the tentacles of corruption."
Testimony in the Yonkers
corruption
trial
suggests
that Forest City Ratner had behaved in a questionable manner, offering political fixer Zehy Jereis a
no-show job
, with little checking up on him, after he got Council Member Sandy Annabi to change her vote. Forest City sure
wasn't bilked
.
The dailies mostly
ignore the trial
; even Crain's columnist Greg David
notices
. In Times
article
, Forest City flack gets to defend against unidentified "critics."
March
Ashley Cotton, Bruce Bender's replacement, is
on board
.
New Barclays Center video
relies
on Jay-Z. Marketing plan aims to
sell Brooklyn
as much as basketball.
Forest City's Sanna
gets star treatment
in The Real Deal.
Construction workers
create more free parking
near arena site.
Forest City takes
firm step
to modular plan.
Charlie Rose, sycophant,
interviews
Ratner about "Atlantic City Yards." Ratner's
softball NYT interview
; dodges question about housing configuration.
LIU, big arena supporter,
to play
at Barclays Center.
New Domino project in Williamsburg overextended; developer
lacks
Ratner's survival skills.
Forest City
adds
more 2BR units to first tower, but still lags behind promises.
Forest City
aims to shrink
planned parking lot.
311
complaints
supposed to be assigned to 620 Atlantic Avenue.
Barclays Center
advertising
in CNG And
other papers
.
"Brooklynized" water
coming to
Barclays?
Nets Shop to be operated by
adidas
.
BusinessWeek
looks
at "dodgy" EB-5 program.
Times
calls
arena site the new "center of gravity" for Brooklyn.
visits
the arena site: "This is what kleptocracy looks like."
Watching the Nets
in Newark: inexpensive, but no bargain.
Yonkers defendants
found guilty
; Forest City
says
case is not about the company's actions.
Bruce Ratner
tells
the Daily News, "For 100 years, this was a train depot in the middle of downtown Brooklyn." Really?
After complaints from neighbors, Forest City
agrees
not to use noisy hoe ram at night.
April
Final Nets games in New Jersey available for
less than a buck
.
Carlton Avenue Bridge
could open
"before asphalt paved," to save time.
Daily News
moving
Golden Gloves to Barclays. Jay-Z goes from Marcy to Barclays in
new commercial
.
Forest City?
Good corporate citizen or relentless seeker of advantage
? One-shot budget gimmicks, including Ridge Hill, part of Yonkers'
fiscal mess
.
Lots of office space in Downtown Brooklyn
suggests little market
for AY office space.
The journalist known as the Notorious Stephen Witt
says
he will try to avoid "personal axes to grind."
Brooklyn
arena financing
an exception to "the exception to the exception" in the tax code.
Forest City's 2011
lobbying bill jumps
.
Prokhorov in Brooklyn--the conquering hero, to
most but not all journalists
.
Appellate court
upholds decision
ordering SEIS. Ruling, in a way,
echoes Lupica
. MAS on the
wrong side of history
by leaving BrooklynSpeaks.
Prokhorov
admits
to corrupt dealings but not lawbreaking.
Times
op-ed
criticizes EB-5 but suggests solutions are straightforward.
Times
focuses
on retail changes around arena, unskeptically quotes flack as suggesting "dreary rail yards" already transformed; bizarre graphic suggests arena is quite modest in size. Times
publishes article
on pseudo-scandal while scanting AY legal case.
Original architect Frank Gehry
grudgingly admits
that scale was an issue for project neighbors.
Forest City's malls
identified
as "crime epicenter."
Atlantic Yards cheerleader Zarzana, ex-union leader,
indicted
for organized crime.
Nets'
ticket prices leap
in move from NJ to BK. Arena/team CEO Brett Yormark
cites a home-court advantage
.
Community boards says Barclays Center liquor license
requires
community outreach. Locals want
code of conduct
. CB6 committee
supports license
, with reservations,
resists
bottle-service lounge Kemistry.
Narrow Dean Street sidewalks
documented
.
PHNDC's'
ignored request
to get public input before construction of the new parking lot.
Nets
"brand identity launch:
much new merchandise, and a new logo, which Yormark
attributes to
Jay-Z. The
"borough is the message."
2,000 arena jobs?
Not FTE
. Looks like just
105 full-time arena jobs
.
May
Sign
on back of Ratner's retail outlet near arena: "Please don't urinate here."
on-site arena parking halved
, seeks way to
formalize public input
on AY.
Praise for
candidate Jeffries ignores his AY role.
Letter to Mayor
from Carlton Avenue resident who can't sleep at night. "Loud banging noises"
predicted
at arena site.
I
break news
that Barbra Streisand is
coming to arena
, talked up on Fox 5; Jay-Z performing "five" concerts.
Arena jobs to be filled not through BUILD but
city's workforce center
.
Railyard lights
on all night
to rush completion of Carlton Avenue Bridge.
The
"moral limits of markets"
and the Atlantic Yards impact.
Why did Forest City escape in the Yonkers
corruption case
? Conspiracy charge would've been tough to win.
The RPA's
criticisms
of (not well-described) Atlantic Yards, in an analysis of building the Next New York.
Leonard Cohen coming to arena;
"everybody knows."
Park Slope, not so gentrified,
in the 1970s
.
A
laudatory profile
of Amanda Burden leaves out Atlantic Yards.
TDM plan
released
, focus on less parking, more service. Why
the delay
? Frustrations at
meeting on TDM plan
; no penalties for not meeting goals. Savings from
scrapping free MetroCard
. Questions
pending
. Gridlock Sam's
contradictions
(and
history of praise
). TDM documents
released
.
Neighborhood Protection Plan
proposed
, draws on Wrigley. Coverage
round-up
.
Sports Business Journal:
183 events
set at arena.
Bad luck for Nets
in NBA draft lottery
.
June
Construction vehicles on
local streets
; cops parking
on sidewalk
.
In legal papers, Forest City
says
Atlantic Yards site "now cleared but formerly blighted."
Start date on permanent railyard
pushed back 18 months
. MTA
says
it leaves agency whole.
like to hang out
at kids' playground.
Sharpton
claims
Ratner's lived up to all his promises.
Fears of a Tight Fit for Brooklyn's Arena
.
Not one but two
hospital partners
. Are
sponsorship numbers
solid? Nets
pay
for those "First Home Game Since 1957" signs in shop windows.
protest
led by Committe for Arena Justice
seeks
oversight, penalties, compliance monitor.
The Brooklyn Flea
as emblem
of Brooklyn.
Forest City
mulls plans
to revamp its malls.
Judge
says
lawsuit against BUILD, Forest City can proceed on most counts.
Community boards
weren't told
about post-event alcohol service. CB8
seeks curbs
on arena liquor license. At SLA
hearing
, CBs 2 & 6 support license; Forest City apologizes for poor communication over hours, says no bottle service planned.
AYW: Construction Alerts
didn't warn
of loud overnight noise.
Video
. Work on arena elevator and roof/facade
goes 24/7
.
Landscape architects' organization
calls for greening
parking lot. Parking lot work
proceeds
, despite stop-work roder; tanks "placed," not installed.
Actress Carmen Ejogo,
Brooklyn
mag cover subject,
says
she opposed arena but will bring her son, a big basketball fan.
The
impact
of
Berman v. Parker
on Atlantic Yards and historic neighborhoods nearby.
Court of Appeals
denies attempt
to appeal decision ordering Atlantic Yards SEIS. State
more open
to governance entity than Forest City.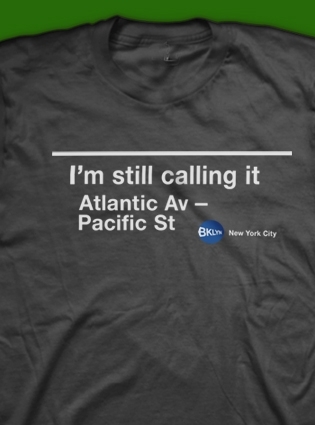 Meeting on arena operations
: parking, loading dock, metal detectors. No, Forest City won't pay for police. Nets games supposed to have 18,200 sellable seats.
Consistently inconsistent: Markowitz
wants
arena treated like any other facility.
Forest City's savings on nonexisting "NetroCards" will go to marketing, it seems, but
numbers are murky
.
T-shirt
: "I'm still calling it Atlantic Av-Pacific St" emerges even before Barclays scandal raises the ante.
July
Construction makes Sixth Avenue
difficult to traverse
. No on takes charge.
Bob Diamond
resigns
. Barclays'
claim
: "we're dirty-clean, rather than clean-clean."
front-page news
: "Nets Move to Brooklyn with Legitimacy in Sight," confirmed by a sneaker store employee, NBA analyst, Nets official scorer, and longtime season ticket holder.
Third-shift work
means
"incredibly loud noises."
The arena: from a
"venue for amateur athletics, graduations, etc."
to Brooklyn Hoops/Show/Boxing/Family.
Famed Knicks fan and famed Brooklynite Spike Lee
says
, "I'm not going to get into the politics of the Barclays Center."
Jay-Z tickets
go on sale
, for suckers. Media outlets get played with news that demand for first three shows
goosed two more
.
Prokhorov will pay for stars, but Ratner
won't pay
for Independent Compliance Monitor, increased police coverage, permit parking program (part of Los Angeles
CBA
), new subway service, more.
Do Forest City Ratner's part-time job numbers
add up
?
Nets
re-sign
Williams after trade for Johnson. Bellowing Markowitz
welcomes
"Brooklyn's Backcourt" at pep rally, hypes rivalry with "Manhattan Knicks"
NYC DOT
recommends
no residential permit parking around Barclays Center. Is area near arena really like the Bronx around Yankee Stadium? Lots of
reasons for doubt
.
Flashback: Barclays' now-departed (because of LIBOR scandal) Bob Diamond
at arena groundbreaking
.
As retail near arena turns over, broker
complains
that neighbors are resisting "Hooters-type places."
After Knicks let Jeremy Lin leave for Houston,
defections to Nets mount
.
Confounding HDC
hearing
on first Atlantic Yards tower; housing partner says first building falls short but should proceed. Some subsidized
rents look high
.
Click and Park
not quite ready
for prepaid parking.
When development promises
are undone
, shouldn't there be a quid pro quo?
Absurdist Post columnist Peyser
credits
Ratner for almost single-handed rehab of Brooklyn.
From Atlantic Yards as "economic engine" to arena itself as
"economic engine."
The
dubiousness of naming rights deals
--not just advertising but attempts to buy goodwill, says law professor.
Report
validates
neighbors' steady complaints about Atlantic Yards construction: "continual violations and difficulty with enforcement."
Atlantic Yards construction violations
include cover-up
of "documentation falsified by the contractor." Complaints have been
documented
.
Barclays Center
seen
as Downtown Brooklyn opportunity by DBP.
The modular plan
versus Gehry's goal to not make it "look like a project."
Arena General Manager's
departure
is mysterious; no one wants to lose someone three months before opening. Arena was supposed to be completed by early July.
August
Daily News columnist Hamill
says
arena will become "entertainment pacemaker," forgets pledge of 10,000 jobs.
Prepaid parking
still not working
, though tickets sold.
Mayoral candidate Bill de Blasio channels Kruger, Golden in condemning those blocking development,
cites support
for Atlantic Yards.
Roof sponsorship signage
coming to
arena. State justifies Barclays roof sign/logo,
saying
it complies with "intent" of Design Guidelines. Ad
seen as
"extremely valuable piece of inventory."
shills for Budweiser
while wearing Nets cap.
GEICO
signs on
; Yormark is proud to partner with "brands of excellence."
Carlton Avenue Bridge
back on schedule
, thanks to disruptive overtime.
Barclays Center
sign is up
, on Atlantic Avenue.
Accidents
on Sixth Avenue.
DNAinfo
reports
: Barclays becoming a BK fixture.
Bruce Ratner
tells
WSJ: "We work just on the merits."
Front-page NY Times
article
salutes Jay-Z's role as "celebrity investor;" little room for skepticism.
Final
TDM plan
, delayed
again
, has a few tweaks; no Dean Street entrance to parking.Audacious
timing
: two important docs released after comment period. Transportation plan
Q&A
: no remedies if performance goals not met, sidewalks still OK, no measures to directly address on-street parking, etc. No response to question about lessons from Wrigley.
An
idling
18-wheeler on Pacific Street.
Huge Times
article/slideshow
compounds marketing campaign: In Brooklyn, It's All Nets.
Barclays Center TV
emerges
.
Ratner
says
, in 100 years, "No one will care what we had to do to make it happen." Reporter
describes
Ratner as "pleasant" and "affable."
Broker
says
"Brooklyn" is bigger draw than arena.
Times
quietly replaces
misleading AY arena graphic. Times
quotes Ratner
as saying arena is a "month ahead of schedule."
Agency, developer wrestle over Atlantic Yards affordability
, or why the first tower won't meet the pledges announced.
Mixed
reactions
to arena's rusted steel cladding.
publishes
Barclays Center special section, AKA advertorial.
78th Precinct to cover
arena, malls
; NYPD commander
says
they're ready.
Less role
for CBA officers who head other precinct councils.
Number of plaintiffs in BUILD lawsuit
could expand
.
SLA
approves
arena liquor license, but imposes 1 am cutoff, not 2 am as sought. Secondhand
coverage
claims MSG/Yankee Stadium have similar after-hours policies.
Expunging "Pacific Street" wasn't the original plan, but
defended
as practical solution.
September
Atlantic Yards
photography
from Tracy Collins,
painting
from Peter Krashes.
happened
to the Atlantic Yards jobs?
Times
delves into
where Nets players live--outside Brooklyn--and might live, in the borough.
What's
wrong
with the common Barclays Center rendering? Unbuilt towers and a hovercraft perspective.
As wary neighbors
worry
about arena opening, Forest City nudges stance on permit parking.
Scrambling toward arena finish line; no "public events and tours" in early September as
once promised
.
NBA Commissioner Stern predicts
revenue jump
for Nets.
AY District Service Cabinet to
be replaced
by Quality of Life Committee.
"September is Just the Beginning" banners
appear
(and
disappear
) on Prospect Heights streets.
How Ratner
backed off
promises to build project in ten years and build conventional towers with union labor.
finally explains
why he claimed BK was "1000 percent behind Atlantic Yards."
Yormark and a
very friendly
Billboard interview. Jay-Z
hyped
in Times Style magazine.
Arena
will comply
with Bloomberg's limits on sugar drinks, still offers unlimited food option.
Daily News gets
first look
at subway entrance. Roof logo
is in place
.
Rail's Hamm
says
he's "trying to figure out how to come to terms with" arena.
Triangle building across from arena
sells
for $4.1 million.
according to
AY Watch. State
backed off
$10K fines. Ratner
claims
they did "a huge amount" to placate neighborhood. Arena gets
belated TCO
.
Brooklyn/L magazines
on board
with Nets. Times
publishes hoops essay
by former Forest City contractor Klores, doesn't mention connection.
First Community Sweepstakes program
for tickets
.
Umar Jordan, once a dramatic booster of AY, now
says
he's disgusted. Protesters at AYCrimeScene.com
list demands
, including oversight and new environmental review.
Oculus
goes
live. New
garbage cans
, recycling bins on arena block.
New Yorker critic Lange
says
arena creates "a whole new context."
puts Hamill's puff
on the front page.
Developer's original Atlantic Yards map
was quite different
.
Times
touts
arena food. Yormark says Brooklyn story was "took good not to be told" and "moment's even bigger than I expected." Capital NY's McGeveran
calls
"beautiful structure" Ratner's "apology to Brooklyn."
ArtBridge
is back
, putting art on fences outside arena and TV lot.
New subway entrance
means
easier passage between B/Q and 2/3/4/5 trains.
announces
No Land Grab to cease regular publishing.
How state agency
withheld document
giving Forest City 25 years to build Atlantic Yards.
Metro
continues
"Barclays Countdown."
Arena ribbon-cutting
a big win
for Ratner, with focus on impressive building. Before the event,
a protest
. Building's
not quite finished
. NY Magazine critic proclaims
Barclays Center Is Brooklyn's Ready-Made Monument
(but
gets spoon-fed
on loading dock).
Brooklyn Paper/Courier-Life
publish
special section.
Markowitz
says
AY area "not a bedroom community," suggests project will be a "masterpiece of urban planning,"
says
arena will "bring us respect that's long overdue." He
claims
arena has "good jobs." (A NNY
critique
.)
The hollowness of the AY CBA,
especially
when it comes to environmental monitoring.
The Carlton Avenue Bridge
reopens
.
branded
Barclays Center.
Where exactly
are those promised
$15 Nets tickets?
No
"Brooklynized" water
at arena.
Times takes
balanced-ish look
at "Hurricane Barclays." Times
suggests
activist Goldstein's just like Ratner, though the former's expansion is as-of-right. Softball Times
Q&A
with Forest City's Gilmartin.
Bike
parking
arrives at arena.
Barclays Center
appoints
Kelly Community Affairs Manager. ESD
names
Lynch for long-open Government and Community Affairs Manager.
Surprisingly tough NY Times
profile
of Bruce Ratner, though the lead is buried. Daily News
says
critics "filed 200 eminent domain lawsuits." (!)
Prokhorov
gives
$1 million to BAM.
CBA signatory BUILD
on shaky ground
, according to complaint to AG.
Times
says
Barclays Center has undercut MSG's price for performers, but doesn't always pass on the savings.
A
vigil
before the arena opening. Groups
call for reform
, joined by Occupy and two who once "drank Ratner's Kool-Aid"
Daily News
sponsors
arena plaza. Arena plaza
gets sign
: "Welcome to Brooklyn."
Jay-Z and the Barclays Center
debut
: traffic flows, but paparazzi gridlock and Atlantic Avenue blocked. (Gridlock Sam
said
don't drive.)
The New York Times lets Ratner's flack
get last word
, makes
curious revisions
in its coverage, dropping critique of "crony capitalism" and emphasizing whimsy.
Second night of
operations
; no traffic jams, Atlantic Avenue overrun, idling vehicles. Pacific Street as
staging area
for police/fire.
FG Park
, Wyckoff Gardens.
October
Arena operations
rely
on override of traffic lights.
Jay-Z
says
: "It's our m-f-ing time now"
NPR music editor:
"The Barclays Center is fraught, but watching Jay open it was touching"
Times says ride over Manhattan Bridge
took
2.5 times as long, but results from opening days support both "skeptics and believers."
Ratner
claims
"we've already bought all the land."
Critic Goldberger
calls
arena not extraordinary, but "a decent and at times strong building" with lots of branding. Why arena reviews should wait til
after opening
.
Gridlock Sam says
it's fine
to shut down Atlantic Avenue after events.
Barclays Center
sponsors
"Brooklyn Backstory" in Brooklyn Paper.
Forget the Haier Store; a Sugar Factory
is coming
to Sixth and Pacific.
CBA signatories
all got suites
for Jay-Z; Lewis's Black Institute auctioning them off.
Barclays Center as
giant neighborhood sub-woofer
, as bass from Jay-Z penetrates neighborhood.
Gratz on
the Great Brooklyn Bait-and-Switch
. Baker on
"How to Steal a City."
Jay-Z
takes
subway. In final concert, Jay-Z
brings out
Beyonce, disses AY opponents, salutes Jackie Robinson's widow.
Long lines
to see
Globetrotters; security chief departs.
On Charlie Rose, Ratner
calls
arena a gift to Brooklyn.
Ron Shiffman
wins
Jane Jacobs medal, work with DDDB cited.
Arena
ad
: "extraordinary entertainment has a new home." On the plaza,
a booth
for videos to express fan enthusiasm.
Streisand
concert
: no Carmageddon, but lots of idling limos. Tents
for the guests
. Truck
parks
outside arena.
The Nets
make Sports Illustrated's cover;
was it just Prokhorov who gained from "connections, shrewdness, no-bid purchasing."
Subway
entrance quiet
for morning commuters.
The
myopic
New York mag critic, who
called
the arena a monument..
Jay-Z's video channel
massages
Atlantic Yards opposition away.
Arena
says
no more metal detectors for Streisand aimed to speed lines, not racial profiling. Post:
arena to
use wands, not metal detectors for now.
Operations
rely
on illegal, informal parking lanes on public streets, and honking.
No, it's not a
$1 billion arena
.
My v
isit
to the branded Barclays Center, for first exhibition game. The
"meditation room"
is used to store wheelchairs.
weigh in
on community impacts, trucks, urination.
The
drip-drop housing plan
; yes, they're going modular.
Metal detectors
back
for free tickets, at least.
Voice
names
Barclays Center "Best Sports Venue."
Video series
begin
: The Association and Road to Brooklyn.
Grantland's
breathless salute
to the Nets' Brooklyn takeover.
Boxing inaugural
a triumph
, except for failed drug test and papered house. Early
liquor cut-off
and somewhat rowdy crowd. Won't
be monthly
as planned.
Forest City: "blighted" railyard
won't get developed
until four towers built on parking lot block. Developer
says
Prokhorov loan paid off, may sell share in Nets.
Does apartment
site across from arena block
deserve variance because of new context?
Islanders
moving
to Barclays Center by 2015. No impact on
AY housing
. Does move vindicate AY, or
just the arena
(and should NYC/NYS have driven a harder bargain)? For Islanders,
key
is revenue from luxury suites, premium seats, and TV.
Markowitz
admits
Atlantic Yards is "among the most contentious developments in America's history."
Times mag
essayist
: arena is a "shrine to Brooklynland."
Daily News
special section
honoring the arena includes belated apology to Globetrotters attendees.
Sensation electronica show
twice
pounds bass
into residences near arena. State overseer for Atlantic Yards
makes promotional appearance
on behalf of Sensation.
Times
says
arena serves as magnet for yellow cabs; no mention of impact of limos/black cars.
Times critic Kimmelman
salutes arena
, disses rest of AY plan.
Storm places
cloud over
Nets-Knicks home opener. Game
on schedule
despite storm after-effects. Markowitz on board; Yormark
promises
transportation news. Bloomberg
cancels
game; Yormark does 360. NBA/Nets
try to
walk it back, claim they didn't think mass transit would be so hampered. Could a cop
have told
the mayor's office off? Game
rescheduled
, NBA/team
unscathed
.
November
Bloomberg
collects kudos
, but less attention for his single-mindedness re NYC Marathon, Nets debut.
Brooklyn Recovery Fund
debuts
, with $100K each from FCR, arena, Nets, but they don't deserve an automatic halo.
fewer impacts
than at Streisand show, thanks to
charter buses, other plans
. Arena GM tells Times columnist discord is
getting packed away
. What happened to those
$15 tickets
?
Nets'
new, good anthem
is all about the borough, not the team.
From the Brooklyn Rail, my essay,
A Brand Called Brooklyn
.
At the Barclays Center,
the value
of dark lighting and the photogenic arena plaza (sans office tower).
The NYTimes:
The Barclays Center's Media Enabler
.
CBA signatory BUILD
closes
, in wake of funding troubles, allegations. Veconi on the
use of the CBA
as a wedge.
Bender and Cantone, ex-Forest City,
rely on
former contacts for consulting clients.
The bizarre
BrooklyKnight mascot
, cartoon
borough defender
, and comic book. The Prokhorov
comic book
.
dwarfed
by YIMBYs.
In While We Were Sleeping, authors, activists
take on
NYU expansion.
The Brooklyn Game website
emerges
, supplies content to YES network.
Screaming Bieber fans
surround bus
on Dean Street; after chaos, cops
say
they'll have a better plan; still, where do black cars go?
Lessons for Brooklyn in the Oklahoma City
hoops fairy tale
; most have forgotten the questionable origins.
Metropolis columnist
Jacobs
, longtime AY opponent, "grudgingly impressed" by arena, hopes for changed site plan.
BUILD's Caldwell
defends
spending that provoked complaint to AG, suggests it's "right for the people." Plus, some bitter exchanges.
power
of free tickets and giveaways. Behind the
community tickets program
; it helps to have gotten in early.
Deron Williams
welcomed
, but gingerly in Williamsburg.
In Yonkers case, Annabi, Jereis get prison terms; judge
suggests
Forest City's Ridge Hill "arguably led to a good deal of public good." Lawyer for Jereis
suggested
Forest City was big winner.
Sandy victims
get
an arena treat.
Barclays Center
seen
as not cannibalizing Jersey arenas, but what about Nassau Coliseum?
Forest City
oddly challenges
property assessments regarding arena and other AY property, then
withdraws
suit.
As predicted, Times
reports
on how Atlantic Yards opponents are exhausted; neglects to city court win, importance of civic watchdogging.
NYC rivalry
amps up
with Nets win over Knicks; Markowitz crows. He had
said
"there's no room" in BK if you don't support the team.
More
hiring
at the arena: enlarging the pool, or coping with layoffs?
With bank and unions on board; Forest City
ready to go
modular.
FAQ
on the first Atlantic Yards tower; it looks like it would cost $24M less than similar 80 DeKalb.
The metal
does drip
from the pre-rusted arena facade.
meeting on first tower
, questions about affordable housing, design, safety, oversight. Dean Street
pedestrian passage
narrows to 5 feet. 17 former footprint renters
moving in
.
December
New towers
rising
near BAM, with more affordable housing than first AY tower.
The NYC Power 100 and Atlantic Yards:
many intersections
.
A
booming market
for scalpers outside arena?
Jay-Z talks up Nets in GQ; video of
subway encounter
with "adorable old lady" goes viral.
Arena construction monitor, after three-month gap, finally
issues report
. Fortune
loves
the arena.
PR Week
salutes
arena's communications strategy, including three Times placements for first food article. (What about "35 lawsuits"?) Another three-pointer, as Times
review
published five days early.
Second
meeting
of Quality of Life Committee: oculus, lighting, idling are issues and limo parking won't go away.
New
development fund
will invest in first AY tower.
Times
series
and
editorial
on subsidies somehow excludes Atlantic Yards.
Architectural Record:
facade makes
arena "seem surprisingly in sync" but "can't be declared a civic triumph just yet"
argument
on legal fees in timetable case, judge seems skeptical of the state.
Seven firms that worked on AY are
on city's watch list
.
Barclays Center
listed as
NY Magazine's top Reason to Love New York. Urination problem not ignored.
Ebbets Field flagpole
placed
outside arena, with Robinson's daughter in attendance.
Brooklyn Gateway plan, responding to arena and area growth,
suggests
transportation changes, permit parking, congestion pricing, rapid response team.
too flawed
to deal with limos/black cars?
Limos
idling
outside Stones concert. Cars
on the Pacific Street sidewalk
before Knicks game. Wrestlemania trucks
on residential streets
.
What's
left
in arena TCO? Unclear.
Nets' Joe Johnson
featured
in video, magazine.
The arena's
mixed impact
on retail neighbors.
My essay,
Brooklyn's vaunted, tainted Barclays Center
; that
missing office tower
and ignored RPA suggestions
Providing
Brooklyn with the "civic amenity" of an arena.
At groundbreaking for B2 tower,
narrative of innovation
nudges asked questions about promises of housing and jobs.
The Barclays Center and the
shift in perceptions
, given the plethora of happy event-goers.
holiday card
, Markowitz salutes Barclays Center and those behind it.
Are cheap seats
really for sale
? Nets
finally explain
that, yes, total includes season tickets.
Supplemental EIS
process finally starts
with Draft Scope. Will it study blight and the potential for other developers?
After a spectacular November, Nets start losing big in December. Was city
"under new management"
? Coach Avery Johnson
fired
.