Atlantic Yards/Pacific Park in 2018: Greenland takes control; new developers join; Islanders begin departure; Forest City's demise; timetable doubts mount
Here's my 2019 preview.
As I like to say, there's usually a surprise every year with Atlantic Yards/Pacific Park. In 2018, there was more than one, and the first--and largest--came in January, as the project continued a curious stall, with no new building starting since mid-2015. (Infrastructure work has continued.)
Forest City New York CEO Maryanne Gilmartin, Bruce Ratner's designated successor, saw the writing on the wall and/or followed her dream, leaving (with four lieutenants) to co-found a new firm, L&L MAG.
That was coupled with the the decision, after a year of negotiations, by Forest City to pull back from Pacific Park and further lower its risk, selling all but 5% (of its previous 30% share going forward) to Greenland USA, which fully controls Greenland Forest City Partners.
Cuomo boosts Belmont
Some other surprises, though smaller, were significant. The New York Islanders and the Barclays Center mutually opted out of their purported 25-year deal after three years, with the parties agreeing to split the next three seasons split between the Nassau Coliseum, downsized but closer to the fan base, and Barclays, both operated by BSE Global.
During that time, it's likely that a new arena at Belmont Park, championed by Gov. Andrew Cuomo, will be built.
No new timetable for Pacific Park was issued, though I discovered--thanks to a quietly-filed document--that the joint venture was now telling potential condo buyers the project would likely not be completed until 2035. With 782 affordable units built, out of 2,250 pledged, that leaves a tight schedule to build the remaining 1,468 by 2,025.
New skepticism emerged regarding Mayor Bill de Blasio's affordable housing record, as middle-income units in Atlantic Yards buildings required a free month (or two) to entice renters. But real-estate boosterism continued regarding pricey units at the project's new "park" and even in a
Million Dollar Listing
episode.
New development players
Another surprise, though not a shock, is that Greenland, apparently looking for cash, brought in new players, TF Cornerstone and The Brodsky Organization, to develop three sites (B12, B13, B15) on
terra firma
. The only other site ready for construction is B4, 18 Sixth Avenue, which emerged as Greenland's priority. The rest either await a deck or, in the case of Site 5, require a state process to revise the project plan.
That, at least, would change the glacial progress of the project; no new building has started since 2015, though infrastructure has proceeded, only marginal open space has been made public, at two buildings; and retail tenants have only started to arrive.
Graphic by Ben Keel, with research by Norman Oder; last updated in November 2018
It also suggests the project will be accelerated by the presence of multiple developers, despite official resistance to such a notion when proposed by project opponents and critics.
Meanwhile very large new buildings were approved (
80 Flatbush
) or proposed (
625 Fulton
), indicating a new phase for Downtown Brooklyn, not far from the Barclays Center, as well as for the Atlantic Avenue corridor near the eastern end of the project site.
Though they're not part of Atlantic Yards/Pacific Park, that will change the context for the percolating, but not yet officially proposed, buildings at
Site 5
, still home to Modell's and P.C. Richard.
80 Flatbush: approved (left) vs. proposed (right)
A dynamic unchanged
Unsurprisingly, the basic dynamic regarding Atlantic Yards/Pacific Park remained: neither the city nor the state put much pressure on the developer.
The Atlantic Yards Community Development Corporation (AY CDC), the vehicle that could plausibly elicit some answers (such as about the timetable) from the developers, not only lost its most active members, it did not meet after March 2018 (its second meeting in the year), despite the mandate to meet quarterly.
At one
community meeting
, resident Gib Veconi asked if the state had any other projects run like this. "Atlantic Yards is very unique," allowed Tobi Jaiyesimi, who works for both AY CDC and its parent Empire State Development (ESD).
"The state does not have a project identical to this," said the ESD's Marion Phillips III, but it does have equally large projects like the Javits Center and Moynihan Station, and "Moynihan is very, very complicated," involving three or four developers. "The question you're asking us? We can manage this."
"I'm not concerned about the state's ability to manage large projects," said Veconi. "I was really just thinking about the structure of this one." That question lingered.
Forest City's demise
Also surprising, though not without foreshadowing, was the corporate demise of Cleveland-based Forest City Realty Trust, formerly Forest City Enterprises, which was absorbed by Brookfield Asset Management after a narrow 7-5 board vote to proceed with the deal and then a shareholder vote.
The drama included a spirited campaign, including press releases and a lawsuit, launched by 90-year-old Al Ratner, a Bruce Ratner cousin and former Forest City CEO/co-Chairman, to block the transaction, calling it a great deal for Brookfield. The juicy saga was somehow ignored by the New York media.
One possible impact: less transparency regarding basic information like the lease-up of towers, which Forest City used to report publicly. (Brookfield is public, but it's huge, so it may not feel compelled to report in such detail.)
My predictions: right and wrong
Looking back at my 2018
preview
, I got some things right, and others wrong. I incorrectly suggested that a new tower would start, and that the public process might begin to approve a much larger tower (or pair of towers) at Site 5.
I did predict more public dismay about middle-class "affordable housing" as well as more questions about the 2025 affordable housing deadline. I did suggest the possibility of future building sales, a more complex mix of owners, and a reconfiguration of the Greenland Forest City Partners joint venture, given tension between owners. But I missed the big story about Forest City's demise.
I did suggest that Cuomo would boost Belmont and the Coliseum, and the Nets would remain scrappy but challenged.
January 2018
The National Hockey League seems
open
to short-term Islanders stint at Nassau Coliseum.
Some
nuggets
from the Real Deal about Jim Stuckey's 2007 departure from Forest City, including pushback against sexual harassment complaints from executives saying he was "an important person."
Direct and indirect lessons for Atlantic Yards, reflecting on articles in
Project Management Journal
. The project can't be called a success in most dimensions. Such projects are inherently risky, have multiple stakeholders, and suffer from "optimism bias." They often fail to account for complexity and rely on misinformation about costs, schedules, benefits, and risks.
Among the five consistent criticisms of megaprojects is introverted governance, circumventing local planning frameworks. Megaprojects suffer because they lack transparency and "have narrowly focused outcomes." To fix this, "monitoring and accountability practices" should be established before projects begin.
The proposed 550 Clinton
A proposed 312-foot
residential tower
at Atlantic/Vanderbilt would match height of future (bulkier) catercorner Pacific Park tower. The new building would be 550 Clinton Avenue.
Developer of "100% affordable" 535 Carlton now offers
free month
for middle income units.
Gilmartin is
leaving
Forest City, as the firm
agrees to
sell most of remaining project stake to Shanghai-based Greenland. Gilmartin told Bisnow that capital constraints at Forest City led her to choose a private firm.
In
press release
, more rhetoric than insight regarding the Forest City deal. No news about timetable. Empire State Development still on board. Though Greenland now runs the joint venture,
don't rule out
multiple owners (starting with 461 Dean, already on sale).
Pacific Park's
murky future
: deal's taken a year; progress pledged on affordable units and huge tower, but no finish date or affordability details. Questions
pending
re off-site affordable housing (Forest City's role), the Community Benefits Agreement (where's the monitor?) and the school (when?).
In wake of Pacific Park restructuring, Forest City
lays off
20 people in Brooklyn (third round of layoffs). Gilmartin's new L&L MAG offers a new image of Atlantic Yards/Pacific Park.
The buildings in pink have been built. The green arrows indicate the largest potential towers.
Given "complexity and longevity" of Pacific Park, one member of the Atlantic Yards Community Development Corporation
seeks more process
to support public interest as project changes. Why not hire third-party consultants to help inform the public?
Progress: Barclays Center to
resume policy
of announcing non-ticketed events in monthly calendar circulated to residents.
The
passing
of David Sheets, Dean Street renter, former Freddy's bartender, eminent domain plaintiff, and singular personality.
State "mitigation matrix"
reveals
quarterly project monitoring, but could use more transparency.
At
community meeting
, promises of open space by February and improved site maintenance; landlord won't allow proposed 4 am closing of Mekelburg's, should the store/cafe come to 535 Carlton. (It didn't.)
So what's L&L MAG's relationship with the project? "The [service] contract [for p.r. and more] is with Forest City, but I speak on behalf of the joint venture,"
said
former Forest City executive Ashley Cotton, now with Gilmartin's firm. It still sounds murky.
Brooklyn Sports & Entertainment is
reportedly pressuring
Islanders to play more games, and sooner, at Nassau Coliseum. Yes, Isles
will return
part-time to Coliseum. The $6 million state subsidy for building upgrades is new.
Pacific Park by 2028? Former Forest City executive
says
project will "take probably about a decade." (I'd bet longer.)
OK, now
a studio
apartment at 550 Vanderbilt rents for $2,200. That's 3% more than an "affordable" studio nearby.
Forest City
was "bullish"
on Atlantic Yards. Greenland's now "bullish" on New York. Is that just bull? They might be getting a good deal from Forest City, which wants to get out, but Chinese developers have been pulling back, given capital constraints back home.
February 2018
Newsday
editorial
: beware of taxpayer support for Islanders deal.
Barclays Center releases February 2018 event calendar: "private events"
listed
, but with no detail.
Real Deal: "unsophisticated" EB-5 investors
sue
New York City Regional Center regarding Battery Maritime Building project in Lower Manhattan. They got green cards, but they didn't get their money back.
At 535 Carlton, 11 affordable units get their rents halved. That saves the developer far more,
given 421-a tax savings
at 550 Vanderbilt. The moderate-income "band," which originally included only 15 of the building's 297 apartments, now has eleven more units, and the most expensive "band" has eleven fewer units.
Maybe Pacific Park
will have
more than 4,500 rentals and fewer than 1,930 condos. It's not just the 421-a tax law change that discourages condos. No previous documents ever suggested that many condos; 2014 tentative plan cited 1,033.
2014 projection shows only 1,033 condos, though Site 5 plans unclear
Early Atlantic Yards investor Londell McMillan
won't go
to Nets games. "It breaks my heart to have been a part of the project."
Forest City
reports
: affordable 535 Carlton just 66% leased; 38 Sixth 28%; 461 Dean 92%.
Newsday: Coliseum operator and Nassau County executive
want to end operator's penalty
for not supplying minor-league hockey long-term. Arena CEO Yormark
blames
Islanders for not embracing Brooklyn; "they were like rent-a-team" (but Barclays was the renter). Yes, Nassau Legislature
agrees
to waive $1M penalty.
CEO of construction company McKissack offers curious comment
on working
with Greenland: "It's an awakening, how we do business here."
Bringing Brooklyn "a soul"? Nets'
TV ratings
now up to 30,000 households in metro area, though still worst in the league.
Metropolis in Los Angeles
Looking at Greenland's giant
Metropolis project
in Los Angeles: distinct logo, cascading design, finances in flux (which means sales).
Original architect Frank Gehry
sounds
somewhat sanguine about losing Atlantic Yards: says Ratner was "fair and gentlemanly," but can't look at project "because I loved [it] so much.
Local precinct commander
defends
free parking in Barclays Center dropoff lane because "they have to park somewhere."
Departing Atlantic Yards CDC member
urges
more transparency and accountability, given lack of real-time monitoring.
March 2018
Greenland
gets
Outstanding Community Contribution award from China General Chamber of Commerce–USA for, well, building its projects.
Forest City
will have
just one seat on board of Greenland Forest City Partners (previously two of five). Also notable: 5/31/25 is the deadline for affordable housing before fines kick in and 782 affordable units have been completed, leaving 1468 of the required 2,250 to be built.
Permanent railyard delayed again, purportedly until Q4 2018 (but it wasn't finished); developer in 2015
told
MTA of a 16-month delay past 2017 (but didn't tell us), document reveals. At meeting, minor progress
reported
; stonewall on railyard timetable; no approvals needed for Greenland-Forest City deal; rat abatement promised.
New view of 550 Clinton
On podcast, Gilmartin
talks
Atlantic Yards. Regarding the subway entrance, she said, "In the original pro forma, we had it for something like $6 million. It ended up costing $72 million." The budget was $29 million as of Forest City's July 2005 bid to Metropolitan Transportation Authority.
Catercorner to Atlantic Yards site, 550 Clinton tower
tweaked
, looks more like 550 Vanderbilt.
No clarity on
affordable condos
: will joint venture build 200 onsite? would diminished Forest City build 400+ offsite?
Yes, Brookfield
might still be interested
in Forest City: "we are always looking for mispriced or undervalued opportunities."
Video
shows
late night staging and noise at B12 site, undisclosed in two-week Construction Update.
As glut
continues
for new Brooklyn apartment towers, a 535 Carlton footnote from an affordable housing advocate: "Those units, including a two-bedroom asking $3,223 a month, have struggled to find renters, she said, because they are competing with similarly priced market-rate apartments in the Pacific Park area that don't require as thorough or as invasive a vetting process."
Executive Allen Gong, who went from Chinese firm to Forest City,
leaves
for Greenland to focus (almost surely) on upcoming B4 tower.
My
long look
, for The Bridge, at Forest City Ratner/Forest City New York, possibly on the way out, given corporate changes. (It was only about four months early.)
Instead of selling/merging, Forest City
extends deadline
for board nomination until March 28; implies extended time for strategic review. Forest City
rejects
buyout offer, announces new board, cutting Ratner family role. In retrospect, this was the beginning of the end. After
news
, Forest City stock drops 6.44%.
Of pledged $3 million parks investment outside of project by May 2035,
$1 million is due
by May 2022 (already delivered?).
At Atlantic Yards CDC, a "chilling effect on community input"--a belatedly scheduled meeting--
means
the state advises itself on contract renewals.
Forest City
sells
461 Dean, troubled modular tower, for $156 million, to Principal Global Investors. It cost $195.6 million to build.
April 2018
The Real Deal
offers
"The dismantling of Forest City Ratner," suggesting that the company faced both major missteps at Pacific Park and a corporate restructuring that marginalized its development business. (I'd add Ridge Hill.) Former employees "also point to miscalculations by Ratner," notably underestimating the Atlantic Yards opposition. I'd add management issues, underestimating infrastructure costs, and the failure to maintain support in Albany for tax breaks after ally Sheldon Silver, the Assembly Speaker, was forced out.
The oculus, and the residences
"Maddening": despite operators' pledges to improve, Barclays Center oculus
flashes
intrusive light overnight, disturbing residents' sleep. Progress: after meeting with neighbors, Barclays Center operators
agree
to better monitor oculus, accelerate replacement system to avoid intrusive light.
After a
fracas inside
the Barclays Center, famed MMA fighter Conor McGregor turns himself in. It's business; MMA brought 17,026 fans and a gate
exceeding
$3 million, a record for sporting events there.
As expected, billionaire Joe Tsai
buys
49% of Nets, with option to buy the rest in three years.
More than ten years later, a judge's decision recognizing developer's commitment to community use of the arena
looks unwise
. There are very few such events.
Former Borough President Marty Markowitz
hedges
regarding the Barclays Center, Atlantic Yards, and Brooklyn: "I still would always hope" jobs and would go to neediest.
2017-18 attendance, via ESPN
In 2017-18, Nets' Brooklyn attendance
ticked down
slightly; Islanders' crowd dropped 8.4%, to 12,002, last in NHL. Ratings agency S&P (citing Nets' deal)
joins
Moody's (citing Islanders) in warning that Barclays Center bonds verge on junk.
Commercial Observer's
debatable
Power 100 List: Gilmartin (and partners) at 26; Greenland's Hu at 47 (no building start yet). No one from Forest City.
A
panel
on the legacy of Jane Jacobs. Do we have "more democracy than people are comfortable with"?
May 2018
Joining Van Leeuwen Artisan Ice Cream as announced tenants at 550 Vanderbilt
will be
Eladia's Kids and Beer Street, all Brooklyn-based businesses.
Lease-up at 100% affordable buildings
proceeds
modestly: Forest City reports 535 Carlton 76% leased, 38 Sixth 47% leased. Forest City is no longer reporting lease percentages at 461 Dean because it no longer owns it.
SLA
agrees to dismiss charges
against Woodland, a busy bar/restaurant near the arena, if owners pay $12,000 fine (but probe may not be over).
On
my Jane's Walk
around Atlantic Yards/Pacific Park, "form follows finance" (or lack thereof) and a reminder of public-private tension (a guard tells us to move).
Project timetable
remains
murky; most if not all buildings will have affordable units; interim open space on unbuilt lots unlikely; LIRR work slips through the cracks of the environmental review. "There are no conversations about bringing on other developers," says a state official. (That would change.)
As
neighborhood changes
, unintended consequences: dogs on playground, cigarette butts in street; also, Times Plaza timetable fuzzy, arena's oculus improves. A dog run is in the distant future, not until construction starts on buildings on deck over the railyard.
Sports betting
legalized
, as NBA sought; now it's up to the states; Nets looking forward to cashing in.
Developer
debuts
West Portal, easing LIRR path to terminal; upgrades said to be worth $500 million!
In 2009, the MTA said the new railyard would be valued at $147 million, while an MTA official said the previous, larger iteration would have been worth $250 million, after inflation.
Yes, Gilmartin
says
she expects Site 5 to be built as office tower, rejects her company's original "urban planning decision" to "muck up our beautiful arena by landing a building in front of it."
Remember how ESD predicted that middle school would open in fall of 2018? It
looks like 2021
at best.
Moody's: sale of Nets to Tsai
rescued
Barclays Center finances, bolstering bonds above "junk" despite negative outlook. Quietly, state board last month
approved
expanding how required annual payments can support Barclays Center operations & maintenance.
Development executive Kate Bicknell
leaves
Forest City New York. So
does
Josie Mok.
From
City Limits
: "De Blasio Emails Shed Light on how 'Affordable Housing' is Packaged for the Press." Though the Mayor's Office claimed the "withheld documents relate to communications in which Mr. [Jonathan] Rosen was not acting on behalf of any clients nor interests they represent," but rather offered advice "represent[ing] solely the interests of the Mayoralty and the City," clearly there were overlaps, as his firm repped Greenland Forest City Partners.
"The way that we go about our plan is not that," the mayor had
claimed
, not so accurately, regarding middle-income affordable units.
June 2018
As dispute over Grammys charitable event emerges,
evidence
of a significant proposed Barclays discount compared to Radio City Music Hall.
From New York Times
Times Real Estate section
promotes
"new parks" at developments, lets broker Ryan Serhant make self-serving claim about 550 Vanderbilt, acknowledges slow pace a problem.
Brooklyn Sports & Entertainment
rebrands
as BSE Global, leaving MetroTech for Industry City and extending beyond Brooklyn, with London advisory board.
In
podcast
, former City Planning official Regina Myer, now of the Downtown Brooklyn Partnership, says: "No one in the early 2000s understood how strong the residential market would be in any place in Brooklyn" Reflecting on starting his real-estate company company in 2008, Ofer Cohen says: "I thought it would take 20 years for this to be like a Manhattan market. Instead, it took five years."
An architecture critic's
thoughts
on revisiting buildings, and why that applies to the Barclays Center, given that it doesn't always "make nice" to neighbors.
Yes, unfilled 38 Sixth middle-income affordable units now
marketed
outside of housing lottery, including on StreetEasy. Though rents stay steady, upper income limits have increased, based on 2018 Area Median Income. A six-person household
can earn
nearly $200,000.
Cuomo, pursuing re-election,
announces
more Islanders games--with 20, of a 44-game total--next season at Nassau Coliseum. That's 68 total projected over three years.
Forest City, with partner Madison International Realty,
buys out
pension fund partner in DKLB BKLN (aka 80 DeKalb).
Forest City, Greenland
close
Pacific Park deal, but no price announced, so we don't know if Greenland got a bargain. Greenland USA head Hu Gang: "Pacific Park is an important development and we are committed to continuing to deliver the terrific mixed-use community that we have begun to build in the heart of Brooklyn."
July 2018
New Downtown Brooklyn rental tower, The Amberly, has studios
starting
at $2,100, below $2,137 "affordable" studios at 535 Carlton. Larger units are more costly.
Isles star John Tavares
leaves
for Toronto, barely six months after backing Cuomo at Belmont press conference. Just like Vince Carter and Jason Kidd were gone before the Nets moved to new arena.
550 Vanderbilt is the city's
poster child
for investor condos, but the story's more complicated, given investors from China seeking safe place to invest.
From The Real Deal: an EB-5 package that
raises tough issues
but remains too gentle, given that investments often aren't needed to create jobs but rather create profits for the real-estate industry. Given a 15-year wait list for Chinese nationals, "China is dead," says one attorney, and some investors are trying to get their money back.
The New York City Regional Center faces lawsuits and criticism. It's unclear when the
first round
of Atlantic Yards EB-5 investors will be paid back, despite a seeming seven-year deadline and a claimed "completed project."
It's a business: Nets
trade
Jeremy Lin (international media magnet), Isaiah Whitehead (Coney Island native).
Does the Barclays Center
symbolize
(as per Harper's) "The Death of a Once Great City"? Well, there's much reason for criticism, but the article's over the top.
Two top executives (Yormark, Hanlon) in arena company among the many
contributing
to the 2021 campaign (mayoralty?) of Brooklyn Borough President Eric Adams.
Nassau Coliseum
in flux
: no Nets preseason game; suggestion for Isles returning full-time for two years. Isles to take back business ops, no guarantee from Barclays, in next two years.
After WPIX quietly exits arena retail space, Barclays Center operators
offering pop-ups
at "Featured on Flatbush."
Pricing for development sites in Downtown Brooklyn has
increased
to between $300 and $400 per buildable square foot, according to one broker.
Greenland and AECOM
join forces
on international megaprojects; no clear Brooklyn impact.
38 Sixth: Luxury Living at Affordable Rents, claims web site, with rent levels
much revised
, eliminating low-income range (because they're taken).
Developer of "100% affordable" 535 Carlton now
offers 1.5 free months
on two-bedroom middle-income units.
August 2018
End of an era: Forest City Realty Trust
expected
to be acquired by Brookfield, whose buyout offer had been rejected before the Forest City board got new members nominated by hedge funds. Said David LaRue, Forest City CEO, "We believe that this transaction will deliver an immediate cash premium to stockholders for their investment and represents the best path forward for our company and our stockholders." Forest City
to be
wholly owned Brookfield subsidiary.
The deal was seen as a victory for hedge fund investors pushing for change in Forest City operations; Forbes saw it as a smart bet by Brookfield on prominent Forest City assets like office parks (including MetroTech), as well as development opportunities at The Yards in Washington, Stapleton in Denver, and Pier 70 in San Francisco. Atlantic Yards, obviously, went unmentioned.
Luxury maisonette
hyped
as coming with "views of Brooklyn's newest park," despite years of construction nearby.
Financial Times on Ratner: supporter
says
he had a rep for being "one of the good guys." It's not clear what period of time, and what specific actions were referred to,
Coming to
the largest
of the four 535 Carlton retail spaces, BKLYN Clay, which means it's not Mekelburg's. The lease does conform to the developer's promise of "local" retail.
Conor McGregor: the cynicism mounts, as bus attack now
used
in MMA fight promotion.
At 535 Carlton,
two months free
on a two-bedroom lease brings rent down to (listed) one-bedroom level.
HPD
offers income guide
re affordable housing; note yellow segment highlighting middle-income units, which represent half the units in the two "100% affordable" buildings, 535 Carlton and 38 Sixth.
One time Atlantic Yards critic Michelle de La Uz of the Fifth Avenue Committee, backs major nearby project 80 Flatbush, saying her perspective on density has changed,
claims
benefits "created without any public subsidy," though public assistance for developer involves expanded buildable square feet.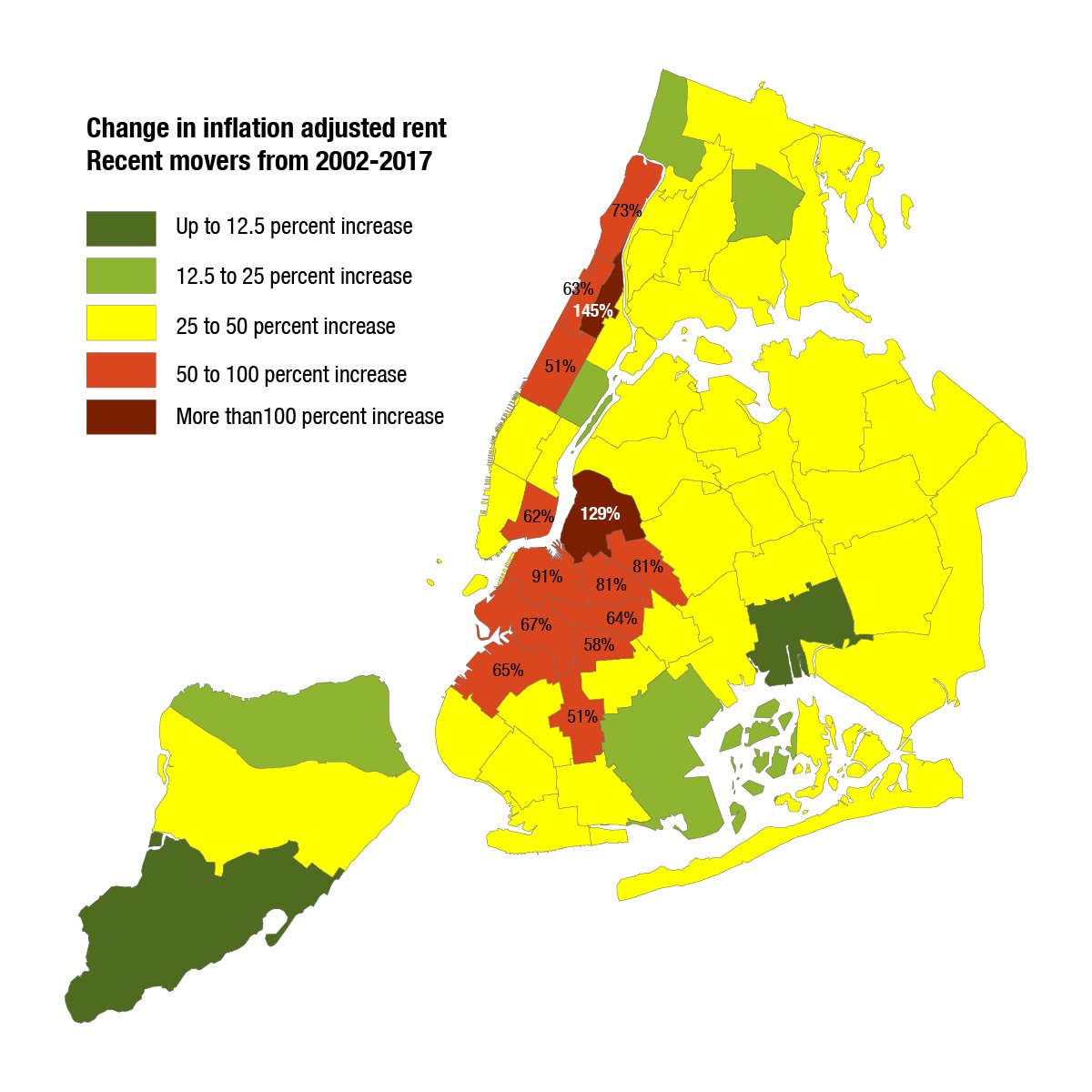 From Community Service Society
Community Service Society
analysis
: rents rising rapidly in inner-ring Brooklyn; affordable housing rapidly lost.
In this case affordable housing is defined as renting for less than 30 percent of 200 percent of the 2017 poverty threshold for a family of three; that means affordable housing for lower-income people, not "income-linked," "below-market" housing deemed affordable for middle-class households.
Note the dramatic 51% drop in affordable apartments in Brooklyn, from 339,500 in 2002--one year before Atlantic Yards was proposed--to 165,800 in 2017. Though Williamsburg had the most dramatic rise in inflation-adjusted rent, the Community Districts near the Atlantic Yards/Pacific Park site all had increases over 50%.
Barclays Center
gets
new General Manager, Matthew Felker; BSE Global names new security chief.
My op-ed:
Eric Adams has faced less scrutiny than he deserves
(including loyal backing of Atlantic Yards/Pacific Park).
Two doors up from Shake Shack on Flatbush Avenue near arena, national chain Chick-fil-A is
coming
; it seems like a departure for longtime landlords, the Pintchik family, who've avoided national chains.
The
shift to Shanghai
: global capital, "Brooklyn-washing," and Greenland Forest City Partners. Even if Greenland USA had arrived trumpeting the assistance of veteran local developers, it would've been a lot harder to argue for such governmental cooperation.
Enter Brookfield, the
global behemoth
that's buying Forest City (and does 100 transactions a year). It's #165 on the Forbes Global 2000 and #272 on the Fortune Global 500. (Greenland Holding Co. is #341 and #252, respectively.) Forbes likened Brookfield CEO Bruce Flatt to Warren Buffett for his long-term perspective and savvy investing strategy.
From a disclosure to condo buyers
Developer
admits
Pacific Park will likely take until 2035, in document for condo buyers. While 2035 has always been the "outside date" to complete the project, after which the developer is in default and loses development rights, that contrasts with previous disclosures and longtime rhetoric about 2025.
Yes, Pacific Park condo buyers
were told
in June 2015 of timetable wiggle room. But Forest City revised "overall project schedule" in Nov. 2016, which is when the 2035 estimate would have made more sense.
"Unavoidable Delay": as Pacific Park faces timetable questions,
some flex
in the 2025 affordable housing deadline. What about the Hunters Point South model, with even higher income limits, to get more affordable units built?
The Times Real Estate section
highlights
550 Vanderbilt tax savings, ignores the 421-a maneuver.
My Gotham Gazette
Op-Ed
: "Running for Attorney General, [Public Advocate Tish] James Takes Her Strong Atlantic Yards Record Too Far." She wins the Democratic primary and then the general election.
In Worcester, MA, sports economist Andrew Zimbalist (noted for boosting Atlantic Yards)
backs
a stadium deal, citing contingencies; other experts disagree.
September 2018
Department of City Planning
names
General Counsel Laremont (ex-ESDC) as Executive Director.
NY Post: Barclays boxing
rises
"as one of the top boxing venues in the country, if not the world."
Daily News: Barclays Center operators
should
get the chronically out-of-service subway elevator fixed.
Newsday: Nassau County IDA
approves
tax breaks for Islanders' $10 million Coliseum upgrade plan: the savings are $400,000 to $450,000.
Real Deal
reports
: five years into ten-year permit, no new plans for (or pressure on?) Madison Square Garden to relocate.
Brooklyn Paper, Courier-Life
sold
to Schneps, which already owns Brooklyn Spectator and Brownstoner (and media properties in Queens). New company is Schneps Community News Group.
As 80 Flatbush decision
awaits
, a look at Council Member Brad Lander's comment that "our highly reactive ULURP process just is not getting the job done." The 80 Flatbush
compromise
is modest; Site 5 project nearby may gain momentum.
Planned Brookfield acquisition of Forest City Realty Trust
came after
hedge funds finessed new board, contentious debate over value, and narrow 7-5 vote.
18 Sixth, via Perkins Eastman
New development partners to
take over
three Pacific Park sites; tower with middle school likely to start in 2019. Now Perkins Eastman is
designing
B4, aka 18 Sixth Avenue, instead of SHoP.
B4
will contain
810 rentals (no condos). With 62% coverage of the .73-acre lot and little room for open space, it makes for a very large Floor Area Ratio of 24.4.
October 2018
On podcast, Yormark
spins
Atlantic Yards, drops hint about Islanders playing fewer games in Brooklyn, claims "our business is quite healthy."
"It's great for the [Nassau Coliseum] building, it creates purpose for that building," Yormark said, in an indirect admission that the building operators will have a challenge if and when the Islanders move to the planned new Belmont arena.
"Million Dollar Charade? Behind a Reality TV Show in Brooklyn." My
article
about the distortions and lies in the selling of 550 Vanderbilt on
Million Dollar Listing
.
Wall Street Journal
reports
: Pacific Park condo revenue lags, Greenland underestimated project timetable, and Shanghai's cutting back from supporting U.S. projects. Greenland and other Chinese investors came in when the market was more promising, even "frothy," to one real estate player, but now there's condo competition, "rising interest rates, less favorable U.S. tax laws and tightened restrictions on capital outflows."
The
tide turns
: Chinese real estate investors end "buying spree"; Greenland pulling back from California projects.
Rust recurs
Upscaling the Atlantic Center mall, now owned by Madison International: Smorgasburg and Brooklyn Flea
coming
for the winter.
Nassau Coliseum
contract drift
: no need for Nets pre-season game (after giving up requirements regarding Islanders and minor league hockey).
The rust
recurs
on the Barclays Center sidewalk.
Islanders
attendance
in Brooklyn hits a low: 8,790 announced.
New builders in Pacific Park
likely to start tower
with school in 2019, other residential towers in 2019/2020. Brodsky will rely on Marvel Architects design for B15; TF Cornerstone is "taking a fresh look at designs" for B12 and B13.
When will Pacific Park be done? Despite publicly stated 2035 target, developer and state officials
deflect
questions.
Executive Gilmartin gets
continued kudos
from local nonprofits, including "Robert F. Kennedy" award from the venerable Bedford-Stuyvesant Restoration Corporation, the nation's flagship community development corporation (despite CBA failures).
On
the passing
of Islanders' owner, the genesis of Belmont (just after Barclays started, before most problems surfaced) and some amnesia about purported "ironclad" Barclays lease.
Key member of founding Ratner family
opposes
Forest City's acquisition by Brookfield. Al Ratner
steps up
advocacy, argues Q3 results suggest Forest City is more robust than portrayed.
Two
signs of change
at the Brooklyn Paper: a pink cover, and a "Brownstoner corner." The
loss of an editor
and more Schneps-i-fication, as business networking events get big play.
In 2012 Penn
discussion
of Atlantic Yards plan, some lessons for megaprojects: "be honest about phasing: nothing ever gets built at once."
Forest City
quarterly results
: 535 Carlton now 94% leased, 38 Sixth 80% leased (but still behind schedule).
November 2018
If glut of new units in and around Downtown Brooklyn
declines
, an opportunity for Pacific Park?
Nets' new jerseys
tout Biggie
(and sponsors); Brooklyn Brigade expanding
After giving to Maloney, Ratner makes
first-ever contribution
to Tish James; also, another check to Al D'Amato's Renew New York.
Will the Islanders return to the Coliseum full-time next year? The rumors
begin
, as attendance in Brooklyn lags. The Islanders' Cal Clutterbuck
commented
, regarding Barclays: "I think, honestly, with that place, it always felt temporary."
As shareholder vote on Forest City-Brookfield deal approaches, two
tempered endorsements
from shareholder advisory firms, more Al Ratner pushback. His
lawsuit
to stall deal was rejected. Forest City Realty Trust shareholders, by significant margin,
approve
acquisition by Brookfield. It will be the end of a standalone company founded in 1920.
#WeGoBig: Jeffries, Adams
honor
hip-hop artist in promos for Nets' expensive new jerseys. "It's incredibly important that the Brooklyn Nets have chosen to honor Biggie's legacy," says Jeffries. Says Adams, "It says a lot when the Nets determine to just stay close to their roots." As Brooklyn Nets bolster superfans,
attendance lags
, at bottom of NBA.
Forest City's corporate responsibility reports on Atlantic Yards/Pacific Park
mislead
regarding MWBE contracting and affordable housing.
December 2018
Michelle Obama, on book tour,
fills
Barclays; the Islanders fill the Nassau Coliseum. Metaphor? 17-minute
blackout
before third-period at Barclays hockey game.
A lacrosse team is
coming
to the Nassau Coliseum, but, with nine home games, it can't be called an anchor tenant.
As Brookfield deal
closes
, Forest City executives in Cleveland get fired; assets to become Brookfield Properties. Eight of the 16 executives currently listed among "Company Leadership" on the Forest City web site left. Bob Sanna, New York Executive VP and Head of Construction, remains.
The
end of Forest City
: stock delisted, assets now part of Brookfield.
Among the sites offered Amazon
From
Crain's Cleveland Business
: "The lights go out for Forest City." Stan Bullard pointed to Forest City's reliance on debt and leverage an suggested that missteps by Forest City Ratner/Forest City New York, led by Bruce Ratner, were catalysts for the company's decline, given impairments (loss of value) on Atlantic Yards/Pacific Park and also the mall complex in Yonkers known as Westchester's Ridge Hill.
New York's bid for Amazon's #HQ2 in Brooklyn
offered
two Atlantic Yards/Pacific Park sites, B4 and Site 5, plus towers over Atlantic Center mall. Instead, Amazon chose to split its new campus between Virginia and Long Island City (which offered
cost and location advantages
compared to Brooklyn).
What a poll
really said
about Atlantic Yards, and what a new poll says about Amazon. Leading questions steer answers.
If the
sixth biggest NYC real estate story
(per Bisnow) is Brookfield buying Forest City, why didn't it get more attention? Brookfield now says it's the city's biggest commercial landlord.
"In a Buyer's Market for Condos, a Brooklyn 'Flash Sale' Is Telling." My
article
for The Bridge details a claimed 20% off promotion at 550 Vanderbilt.
New York Magazine's Justin Davidson,
writing
on potential development at Sunnyside Yard, suggests that the "perpetually troubled" Atlantic Yards/Pacific Park "offers another case study in what to avoid."
The perpetually out-of-service escalator
What
happened
to the Atlantic Yards Community Development Corporation? Only two (quarterly) meetings this year.
Comptroller Scott Stringer
proposes
"fundamental realignment" in city's affordable housing plan, to focus on those most rent-burdened. In other words, middle-income housing doesn't make a big dent.
The down escalator from the Barclays Center plaza to the subway station
has been down
for a while, with the deadline extended several times.