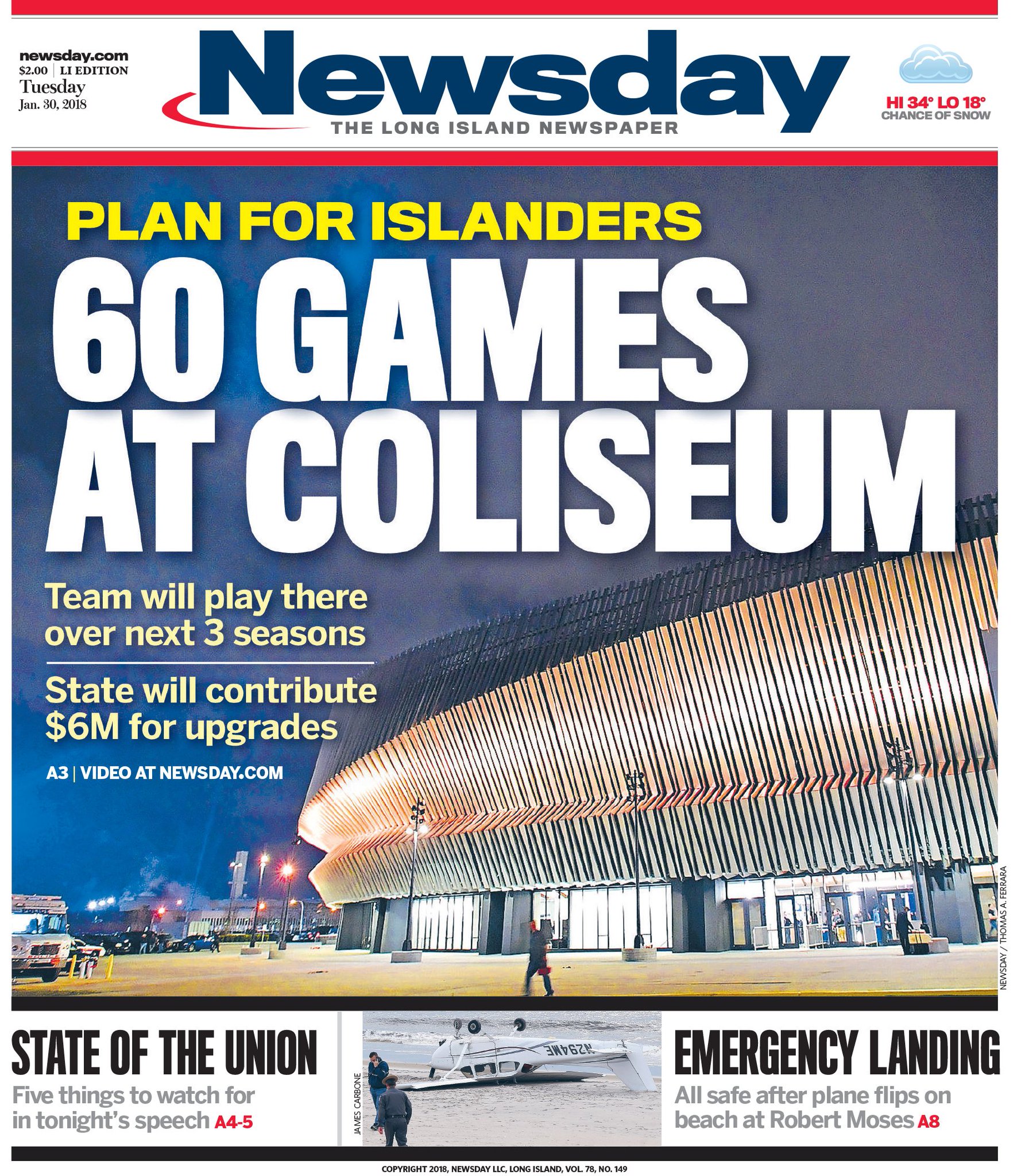 Gov. Andrew Cuomo, headlining another triumphant press event, went to the Nassau Coliseum yesterday to announce that the New York Islanders would return there for at least 60 games over the next three seasons--12 next year, and 24 the next two--while the new Belmont arena is being built.
That splits the two later seasons with the awkward but suite-rich Barclays Center, which would like the Islanders to leave an arrangement that loses money for the arena, and gives Brooklyn Sports & Entertainment, which also operates the Coliseum, a tenant for that venue.
Not that the Islanders had great options beyond the downsized Coliseum, which
holds
just 13,000 for hockey, well below the league minimum (but above current Barclays attendance, last in the league
at 12,059
).
The key, as Cuomo hinted at somewhat confusingly in his address, is this statement from the
official press release
, "New York State will invest $6 million in enhancements at the Coliseum to meet NHL requirements, specifically investing in ice plant redundancy and dehumidification, and media and broadcast cabling infrastructure."
In his remarks (
video
), Cuomo said, "The Coliseum will have some basic modifications, with which the state will be helpful. The NHL requires ice and a chilling redundancy system, as a backup, whatever that means... wiring, some specifications for the complex. Those will be made by the Coliseum." (It's now
officially known
as NYCB Live, Home of the Nassau Veterans Memorial Coliseum.")
The state's money
Well, they may be made "by the Coliseum," but with public money. Newsday editorial writer Randi Marshall
noted
that the state will be more than helpful. Brooklyn Sports & Entertainment, which operates both the Barclays Center, will not be paying anything.
(Why shouldn't the arena operators, team, and/or ticket buyers pay to help a
"sports entertainment corporation"
? Or
even the NHL
?)
Indeed, Marshall
noted
on Twitter that BS&E's Brett Yormark said in September that modifications were "doable" and "affordable," but did not suggest taxpayers should pay for it.
In December, upon the Belmont decision, BS&E
said
regarding an interim stay at the Coliseum: "We understand the required approvals from all parties involved to make that happen, and are prepared to facilitate any necessary enhancements." That was a very careful choice of words, apparently.
Newsday
reported
that Assemb. Michaelle Solages (D-Elmont) argued that the state money should go to transportation of universal pre-K, and the subsidy was a "complete misuse of Long Island taxpayers' hard earned money." But Kevin Law, president and CEO of the Long Island Association, called it a win for regional development
An uneasy move
The move, Cuomo said, will " give us an opportunity to welcome back the Islanders to the place where they belong, which is Long Island, and start to get that fan base up and running."
Yormark said, "This is not your old Coliseum," noting that, since the venue's reopening last year, "this building, based on its capacity, is number one in North America for a building of its size."
"As the governor said earlier," Yormark said, "we are prepared to fast-track renovations to be ready for next season." He called it "a best-in-class interim move" and left a hint, "If the team wants to play more than half the games here, we encourage it, and welcome them back."
But Islanders' co-owner Jon Ledecky unsentimentally told Newsday, "If you look around here, suite revenues, club seats, food, beverages, they're not accessible as they are at the Barclays Center."
He
spoke similarly
to the Times, "To be a max cap salary team you have to maximize revenue," he said. "The Coliseum amenities are not as good as Barclays. There over 100 suites at Barclays and less than a dozen here. Nassau Coliseum does not have an optimal situation at this point."