A timely t-shirt: the name Barclays, now attached to a subway hub (and the Brooklyn arena), comes with a $450 million taint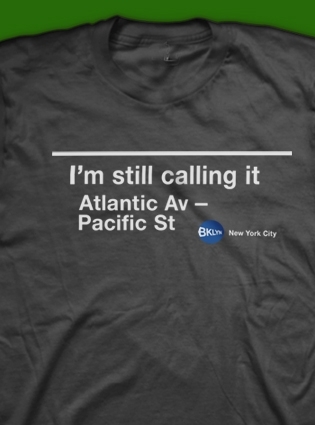 Maybe Deborah Goldstein was onto something in resisting the renaming of Brooklyn's most diverse transit hub as Atlantic Av-Barclays Center.
When the
t-shirt maker
(aka Miss Wit) came up with "I'm still calling it Atlantic Av-Pacific St," she was merely spreading the
message
that "everyone is not okay with this, still,"
Now, of course, Barclays is a wee bit tainted. Wrote Michael D.D. White in his
Noticing New York blog
:
Think about the appropriateness of naming New York City subway stops "Barclays Center" (while receiving virtually nothing of value to do so). "Barclays," nothing but a name being advertised, is simply one more name in a sea of distracting ads. The "Barclays" bank didn't build the arena that advertises its name; it's being built by Bruce Ratner with the financial assistance of a Russian oligarch, Mikhail Prokhorov. The bank contributed nothing to the city or the borough of Brooklyn in order to build it. It has nothing to do with the arena. "Barclays" is not the name of the name of the basketball team planning to play there. It is not even necessarily the name of an honorable bank. Just of now the bank has been fined £290m ($450m) for manipulating LIBOR rates to benefit its traders and cook its books. Chief executive Bob Diamond is under pressure from British politicians to quit over the rate rigging scandal.
To be clear, the Barclays payment of $10 million-plus a year for naming rights--the latter a gift to Forest City Ratner from New York State--will help pay off the tax-exempt bonds used to finance construction.
Piling on Barclays
Reuters
reported
:
It's for the board to decide whether Bob Diamond - who has amazing leadership qualities and huge personal following in the organisation - whether he can be the person to turn the page on this or whether he is part of the problem," said Martin Taylor, who was Barclays chief executive from 1994 to 1998.
"If you go in for a policy of systematic dishonesty you have some rebuilding to do. And I'm sure the board will be very conscious of that," Taylor told BBC Radio on Thursday.
..."Bob runs an extraordinarily competitive and aggressive ship, and that is one reason why Barclays Capital has been so successful in the first decade of the century," said former CEO Taylor, who was sat on a commission that proposed far-reaching reforms for all UK banks this year.
"When people are pushed to go to the limit - you know what traders are like - they sometimes go beyond it. They don't need to have an instruction from headquarters to go beyond it, they think it is what the bank might expect perhaps."
Wrote Justin Cartwright in
The Independent
:
Bob Diamond has said that the practices in his bank "fell well short of the standards to which Barclays aspires in the conduct of its business. When we identified those issues, we took prompt action to fix them and co-operated extensively and proactively with the authorities".
This sounds to me like a roundabout way of saying when they were caught out they decided to come clean. The bank has, apparently, given plenty of information to the FSA and the SEC, the regulators in the US, presumably in hopes of leniency. I don't know if the £290m fine is considered lenient, but these offences took place between 2005 and 2009 when Bob Diamond was head of Barclays Capital, which was supposed to oversee these practices.
Diamond and three top executives are giving up their bonuses. It turns out, however, that Diamond may be giving up only one of his bonuses. Despite shareholder protests he took home £17m in 2011 alone. In that period the bank's share price and the return on equity had fallen dramatically. Investors were particularly angry about the £5.75m Barclays gave Diamond on the grounds that his move to Britain entailed a tax disadvantage.
The greed, the hubris, the sheer brass neck of some of these bankers are almost beyond belief. They seem to see the banks they work for as existing primarily to make them money. The bonus is a sort of manna from heaven that falls on them after Christmas, often without regard to their achievements. What they have forgotten in the rush to the trough is that banks and banking are there to serve their customers.
When Bob Diamond says, "I am sorry some people acted in a manner not consistent with our culture and values", we are free to ask what exactly this culture and these values might be: the single most important aspect of the "culture" of Barclays (and many other banks) is greed, and the prime beneficiaries are the senior executives.
Barclays' culture and values
At the March 2010 arena groundbreaking, as I
wrote
, Diamond was relatively brief, leading off by thanking several people, "including my good friend Bruce."
"This is a landmark partnership in so many ways," he said. "It's about our commitment to the regeneration of Brooklyn in some small way. But it's also about facilitating absolutely top-flight professional sporting achievement."
Not only the Nets but "many great events" will be held at the arena. "All of them will emphasize commitment," he said. "All of them will emphasize dedication to excellence. And all of them will emphasize teamwork. And that fits very very strongly with the ethos and the values of Barclays."
"It's important that we give back," Diamond said.

"The governor talked about the incredible generation of jobs: thousands and thousands of jobs, during construction, but more importantly, permanent jobs for many, many years going forward," he said. "The Barclays Center will not only help secure those jobs, but it's also about affordable housing, about new schools, and so many opportunities for the youth in these communities."

The Barclays Center is not, of course, about many permanent jobs (though lots of part-time ones), nor is about schools or affordable housing.
Diamond cited a "20-year commitment to Brooklyn, the Brooklyn Nets, and the Barclays Center." He might have better called it a 20-year advertising arrangement that will help pay for arena construction.