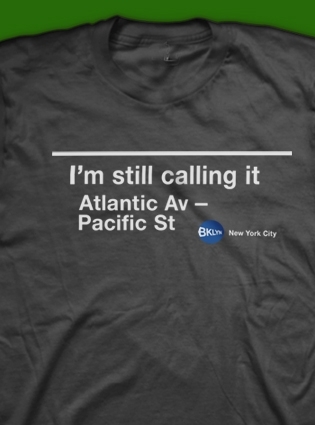 The renaming of a subway station Atlantic Avenue-Pacific Street to Atlantic Avenue-Barclays Center, courtesy of $200,000 a year naming rights deal the Metropolitan Transportation Authority signed with Forest City Ratner, doesn't sit well with everyone.
From t-shirt maker
Miss Wit
(aka Deborah Goldstein, sister of Develop Don't Destroy Brooklyn co-founder Daniel Goldstein):
You can tear the buildings down, and run folks out of town, and spin your tales of heroism. Billionaires come, and billionaires go. Names change, streets are bulldozed, neighborhoods divided, but these coordinates remain the same. Change is great, destruction ain't. When the name becomes Atlantic/Housing Way we might sing a sweeter tune. You can call it the Barclay's whatever, but
I'm Still Calling it Atlantic Avenue Pacific Street!
The t-shirts ($14) are still in production, with an approximate ship date 7/7/12.