Nets game tomorrow without full subway service, but arena CEO promises some transportation news; expect NYPD to again prioritize traffic flow over ticketing scofflaws, despite promises of enforcement
In spite of the worst damage in the history of the New York City subway system after the storm Sandy, the Brooklyn Nets "historic" home opener tomorrow night against the New York Knicks
will go on as planned
, likely because the temptation--for the NBA, team, and arena brass--of a nationally televised debut was just too great.
Ticketholders will be challenged to drive, carpool, take the LIRR, ride buses, and perhaps use limited subway service to reach the arena, which was sited to rely on subway service. Nets CEO Brett Yormark
tweeted
that a plan would be announced today on the
Barclays Center web site,
though there's nothing yet.
Many Nets fans cheered, though one understandably
groused
that the Nets "don't care about the NJ fans." One
commenter
on Twitter called it "NBA hubris at its worst." WFAN's Craig Carton said,
according to CBS
, "First off, half of us don't have power, not gonna be able to watch the game anyway on TNT, number one. Number two, it's offensive. It's offensive to everybody that doesn't have power, that's displaced from their homes or far worse."
Official push
But it seems clear that those behind the transit system, surely with a push from Gov. Andrew Cuomo and Mayor Mike Bloomberg, will do what they can to make things work, even if the expenditure of resources detracts from more pressing needs. (Perhaps a few subway lines will be open, at least as shuttles within Manhattan and Brooklyn, and there may be some express or charter buses. But the subway system could be out four to five days, Bloomberg
said
yesterday.)
Does anyone believe that the New York Police Department, which answers to Bloomberg (a backer of the team and the new Barclays Center, and who said he's going to the game), won't do its best to ensure traffic runs smoothly, even if that means residents in the blocks surrounding the arena will continue to face idling livery cabs and illegal parking?
Expect a lot of business at the official arena lot, and other lots associated with the arena, via
ClickAndPark,
as well as others services, such as
ParkWhiz
. In fact, anyone with a lot will likely be promoting it--maybe even people with driveways to rent out.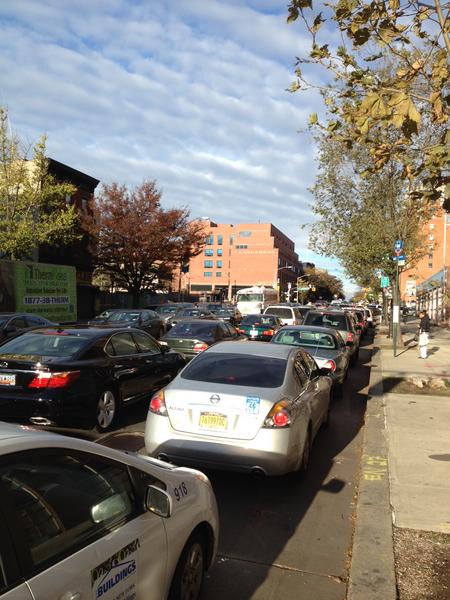 Atlantic Avenue, Wed. 8:41 am
And expect some heavy traffic by 6 pm Thursday. The arena itself was mainly unscathed. But the fear will be gridlock like that at about 8:40 am today, in the photo at left of traffic on Atlantic Avenue near Downtown Brooklyn,
via Aaron Naparstek
.
Markowitz support
Even before the decision was made yesterday, Brooklyn Borough President Marty Markowitz was on board.
"Right now, our biggest priority in Brooklyn is helping with the recovery from this terrible storm," Markowitz
told
ESPNNewYork.com. "I am confident that the NBA, in conjunction with the MTA, the NYPD and all of the necessary city agencies, will make a decision that represents the best interests not only of sports fans but of all of our citizens in New York City."
"If the game is played Thursday, I certainly encourage fans to carpool and to take city buses -- which will begin running with limited service at 5 p.m. today," Markowitz continued. "I expect that adequate numbers of traffic agents will be employed to move traffic swiftly, as has been the experience with the previous events at the Barclays Center."
How can anything Markowitz says be taken seriously, after he's proven
his willingness to shill
for arena developer Forest City Ratner? And how can there be "adequate numbers of traffic agents" when the situation--likely without 10,000-plus people taking the subway--is different?
Media coverage
The Times (which didn't get the news into its print edition, right, for which the page closed at 7 pm)
reported
:
Rescheduling the Knicks-Nets game would have been challenging, given national television and arena commitments. On the plus side, the league would not have had to factor in travel schedules.
Any delay would have been a blow to the Nets — who are set to host the first major sporting event in Brooklyn since the Dodgers left in 1957 — and to their fans.
Not all the fans, I'd bet. It was a business decision.
In the
New York Post
, Brooklyn-born Knicks star Carmelo Anthony stated, "I hope they don't [postpone it]. That would be a monumental game for Brooklyn as an organization, as a borough."
USA Today
reported
:
The decision was made to play because players and referees will be in the New York region, and the NBA consulted with New York Mayor Michael Bloomberg's office and the Nets, a person familiar with the situation told USA TODAY Sports.
That doesn't sound like a full accounting of the interests at play. Will Leitch of New York magazine
enthused
:
This might turn into one of those "can't keep New York down!" nights, and hey: The game's cheaper to go to now too.
From the New York Daily News
A predictable shill
But USA Today found a predictable shill:
A choked public transit system, streets blocked by debris and scattered power outages are doing little to shake public confidence in a timely recovery.
"It's New York," says Eddy St. Louis, co-owner of Machavelle Sports Bar and Lounge, nestled across the street from the new arena. "The trains will be back on schedule, the buses will be running. Everything will fall back into place. We prepare for stuff like this."
No, the trains won't be all back on schedule, though the buses will be running. If they're going to interview someone whose business depends on the arena, why not talk with residents down the block?
A Yormark defender
Note the
debate
on Twitter between Daily News beat reporter Stefan Bondy, who often seems in sync with Nets/arena CEO Brett Yormark (Bondy
tweeted
, in Yormarkian style, "Sandy can't keep Brooklyn down"), and Brooklyn activist Daniel Goldstein.
Bondy cited a post-9/11 Yankee game as part of bringing people together; Goldstein suggested this was about TV revenues. Bondy suggested it's "right decision for more than money," and Goldstein responded that it "seems tone deaf." I'd add that the effects of 9/11, though enormously traumatic, were concentrated in one section of the city, and did not cripple the transportation system.
What will the cops do?
At the 10/16/12
first meeting
of the Atlantic Yards Quality of Life Commitee, neighbors near the Barclays Center cited rampant illegal parking by livery cabs and limos, as well as idling illegally and in driving lanes.
They were told that the solution was less enforcement than finding a place for those vehicles to queue. But that wasn't what they were told two months earlier, as described below.
"We know there's a big issue with black cars and limos," said Arana Hankin, Director, Atlantic Yards Project, Empire State Development who added that the agency was "working closely with Forest City [Ranter], NYPD, city DOT to find an area where black cars can queue legally... We're in the process right now of finalizing that location." (It hasn't been announced.)
Captain Michael Ameri of the 78th Precinct said the Taxi and Limousine Commission had, at the second Barbra Streisand concert, "confiscated 27 illegal livery cabs." The second solution, he said, is to find a location for such cars.
Promises of enforcement
However, Gib Veconi of the Prospect Heights Neighborhood Development Council observed, people were talking "if black cars were invented for the opening of the Barclays Center--they weren't."
"The answer, to all of this, was: enforcement: the NYPD was simply not going to allow these cars to park and queue and idle," Veconi continued. "It's great to hear we're working on a location for these cars now that the arena has opened, after the eight years of study.. but at some point, we've got to get enforcement."
"Enforcement is part of the answer, but it's not the solution," Ameri responded. "The solution is to give them a place... There's no reason to expend resources on issuing summonses when the long-term solution is to find a place for them to queue."
The issue will come up tomorrow night, surely. And it will be discussed at the next meeting of the
78th Precinct Community Council
, which was supposed to be held Oct. 30 but has been rescheduled to Nov. 13 at 7:30 pm, at the station house, at 6th Avenue and Bergen Street.
The promise of enforcement
This past August, ESD issued a
RESPONSE TO PUBLIC COMMENTS
regarding the proposed Traffic Demand Management Plan. The document referred repeatedly to enforcement:
34. Frustrated drivers, finding the search for free on‐street parking fruitless, will be inclined to park illegally: in curb cuts, at hydrants, in sidewalks, in no‐standing zones, or anywhere parking is not allowed but the curb is accessible. We do not doubt the NYPD and other forces will ticket, boot, or tow these drivers. But the fact that such lawlessness will occur in the first place, and that such enforcement will be needed, is a direct consequence of arena patrons driving to the Barclays Center.
The TDM Plan is intended to reduce the number of vehicles driving to the arena and will encourage off‐street parking to the extent feasible for those who do choose to drive, thereby minimizing the number of drivers seeking on‐street parking. As the comment states, parking regulation enforcement will be handled by NYPD.
41. Will no honking signs be installed and enforced?
As part of an effort to reduce excessive and ineffective signage on our streets, DOT no longer will be installing No Honking Signs. DOT has found that signage does not act as an effective deterrent to excessive honking, which can be enforced in any part of the city.
64. Who will monitor double‐parking in front of the Atlantic mall? Patrons currently use Atlantic Avenue across from the arena for drop‐off and pick up.
NYPD is responsible for enforcing parking regulations.
65. Who will monitor traffic violations and how?
NYPD is responsible for enforcing parking regulations and traffic laws.