Isn't that special: anonymous missive from not-invited MTV thanks locals for being "exceptionally kind hosts" for VMAs
From Atlantic Yards Watch
Isn't that special: MTV yesterday sent a message (below) to various officials and residents in and around Prospect Heights, Brooklyn:
"We'd like to extend our sincere thanks for playing host to MTV in your beautiful neighborhood over the past week. You were exceptionally kind hosts and we are grateful for your gracious hospitality."
As with
previous MTV missives
regarding the Video Music Awards, the letter was unsigned by a named human being.
Of course, the residents weren't exactly hosts--they didn't
invite
MTV, but rather had MTV's presence
imposed on them
, with no
public meetings
involving MTV and the city's office of broadcast/tv/film.
And MTV somehow didn't acknowledge the reports on
Atlantic Yards Watch
(excerpted above) about the imposition on the community, including
threats
from a visitor, a garden
trashed
, lots of illegal
idling
/
parking
, and
garbage
left behind.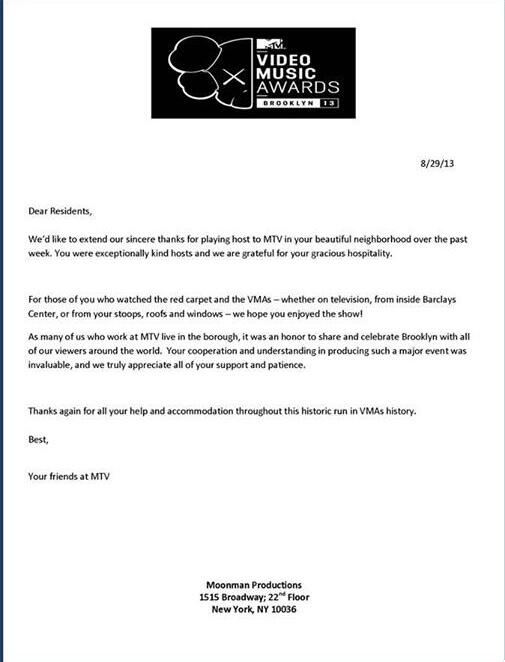 Then again, the Dubai Mini Mart at the corner of Dean Street and Sixth Avenue,
according to
the Daily News, is hawking a piece of the red carpet on Ebay. (Its business suffered, since most people just wanted the bathroom.)