When faced with tough questions (MWBEs, union jobs, ROI), developers behind pending rezonings get evasive. One doesn't own the property yet. The other says he does, but won't prove it.
See collected coverage of M-CROWN rezonings: click here.
To pursue a spot rezoning, such as the two pending 17-story (or maybe 15-story) projects at 870-888 Atlantic Ave, and 1034-1042 Atlantic Ave., is hardly a simple job for a developer: they have to assemble the land, hire lawyers and architects, and complete an expensive Environmental Assessment Statement.
To get through the city's Uniform Land Use Review Process (ULURP), they have to get advisory votes from the Community Board and Borough President, and approvals from the City Planning Commission and then the City Council.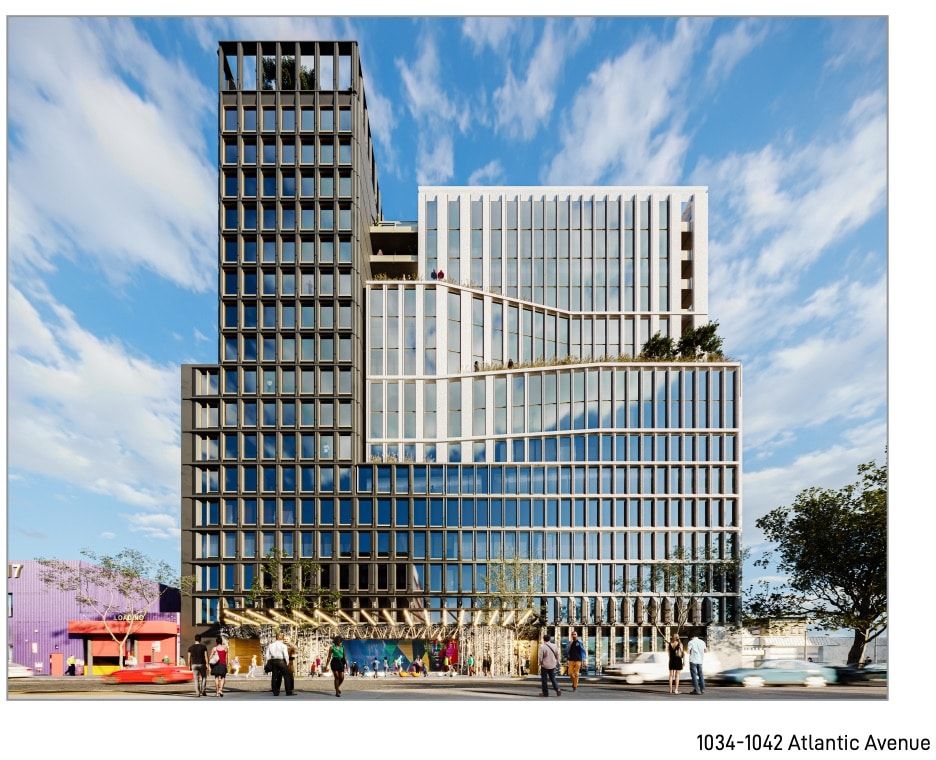 Orig. 1034-1042 Atlantic /Archimaera
The developers of both projects--who share the same architect and land use lawyer--have cooperated with Community Board 8 leaders, agreeing to downsize their original plans somewhat and to commit to the deeply affordable option under the city's Mandatory Inclusionary Housing.
So that has been claimed as getting the board's support--though, as I
described
, the resolution followed a complex set of votes and cascading preferences.
Few tough questions
However beguiling the architectural designs and cooperative the developers seem--and that's clearly in their interest, to achieve new bulk worth tens of millions of dollars--they've rarely faced tough questions.
Hudson at Council hearing
So it's worth focusing on the few times they've faced skepticism. Indeed, at CB 8 meetings and at a recent City Council subcommittee hearing, both developers (and their team) were evasive when faced with basic questions about their business practices, such as use of MWBE contractors or union jobs during construction.
In response to 35th District Council Member Crystal Hudson, Yoel Teitelbaum (Y&T Development), the developer behind 870-888 Atlantic, acknowledged he doesn't even own the property that he's seeking to rezone.
And while Elie Pariente (EMP Capital), the developer behind 1034-1042 Atlantic, says he owns the property, no confirmation appears in city records, and he would not provide evidence when queried.
A valuable strategy
EMP Capital's
website
, while not mentioning any Brooklyn projects, hints at the spot rezoning strategy with an opening quote for real-estate investor David Waronker, "Buy Real Estate in areas where the path exists and buy more real estate where there is no path, but you can create your own."
That path surely includes a rezoning. As I
wrote
, the owner of 1010 Pacific Street, after that rezoning, in 2019 sold the property for nearly 2.4 times what had been paid four years earlier.
Previous properties in the M-CROWN, post-rezoning, have been valued--
see explanation
-- between $170 and $291 per buildable square foot. The 870-888 Atlantic and 1034-1042 Atlantic projects, according to proposed revisions, would have 170,000 square feet and 172,000 square feet, respectively, and contain 206 and 200 apartments.
(Update: they'd have 228 and 210 apartments.)
That suggests--before adjustments--that the properties, post-rezoning would be worth between $29 million and $50 million. That value should be lowered, however, because these properties, unlike the previous ones, have 20% of the units at deep affordability and more job-creating space.
He dodged the question with a word salad. "Sure. I'm happy to talk about this because we do talk about this with the City as well, when we're deciding what we should be asking for," Lobel said. "And the conversation around that is that we're not really afraid to to say that this is going to be mixed in this building, with both affordable and market-rate units. There are people who come to the city who come from, you know, places like Ohio, who do not qualify for 40%-60% AMI [Area Median Income] and this building provides a chance for them to move here as well."
Orig. 870-888 Atlantic Ave./Archimaera
Lobel said he could defer to Teitelbaum, "in case he knows... offhand with the ROI is." He didn't.
Teitelbaum, whose firm has no web site, was something of a cipher, not appearing on camera or even speaking (as far I can tell) at CB 8 meetings, letting his land use counsel and architect to do the talking.
Well, any ROI calculation would have to factor in Teitelbaum's investment, and that, we recently learned, is a mystery.
But his ROI is just as questionable.
I followed up, noting that the question was not merely his ownership but the value of the transaction. I got no response.
My query to the NYC Department of Finance about the rules regarding filing, though it got an initial response, also ran aground.
"Yeah, I mean, that's that's the GC [general contractor] usually really does the hiring," Pariente said. "We're obviously not at that stage yet. But yeah, probably, I mean, inevitably, some of the, a decent chunk of the trades would be union."
He didn't say anything, though, about his track record at the Grand Pacific project, nor respond to my query asking for details.