After negotiating 35% affordability & $200K to fight displacement, Hudson approves Atlantic Ave. towers at scale requested, gains NYC commitment for neighborhood plan in M-CROWN district
Updated 7:30 am 3/13, after update 10 pm 3/12. Original posting 6:30 pm 3/12. See collected coverage of M-CROWN rezonings: click here.
In a last-minute negotiation, reversing her former
opposition
(which preceded
indecision
), 35th District Council Member Crystal Hudson today announced support for two proposed 17-story towers along Atlantic Avenue at the scale requested, having secured significantly more affordable housing—35%, or 153
0
units—plus a combined $200,000 to fund anti-displacement services.
Hudson also announced that the Adams administration has agreed to pursue a plan for public commitments along with rezoning of the underutilized district along and below Atlantic Avenue, where Community Board 8 has proposed a framework for rezoning known as M-CROWN but instead has faced a series of one-off rezoning proposals.
The resolution was announced at a 2 pm hearing (
video
) of the Zoning and Franchises Subcommittee, after the matter was held over from a scheduled 10 am meeting.
"I want to make it clear these two applications represent a paradigm shift," Hudson stated. "Today we have shown that developers can do more than MIH," or the city's Mandatory Inclusionary Housing, which sets several options, but with a maximum of 30% of units affordable, at higher income levels.
"This agreement shows that our city can raise the floor for affordability," she said. "Our new floor is 35%. We can ask all developers at a minimum to do the same thing moving forward."
As I've
written
, rezonings in the M-CROWN district are so lucrative it seems logical to ask for more. (Of the
two developers
, one doesn't even own the land, while the other wouldn't provide evidence of ownership.) It's not surprising that Hudson would have wanted to negotiate a "win-win," rather than be portrayed in the real-estate press as resisting progress.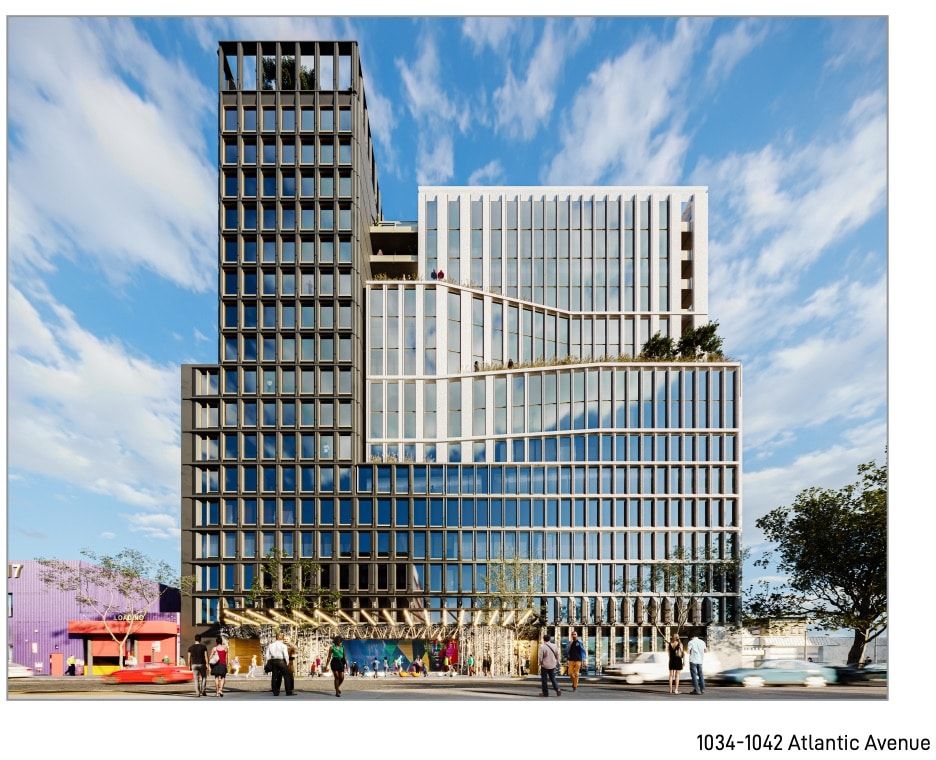 Original 1034-1042 Atlantic/Archimaera
It's possible that the Adams administration, which has encouraged development, made its commitment to a neighborhood plan contingent on her approval of the two towers at the requested bulk, which means a Floor Area Ratio (FAR) of 8.5, not the M-CROWN guideline of 7 developed by Community Board 8. (FAR is the multiple of the underlying parcel.)
It also means--as far as I can tell--buildings 17 stories, rather than Community Board 8's guideline of 14 stories.
Criticism and support
Hudson, as of five days ago,
told
a CB 8 committee only that she was hoping for a response on her request for a neighborhood plan, not mentioning any negotiations regarding the two proposed buildings.
Those opaque negotiations--it's unclear who she consulted with--were not welcomed by the Crown Heights Tenant Union, which has argued that the influx of new market-rate units would be a net negative, despite the inclusion of affordable housing.
Hudson, they
said
on Twitter, "had an opportunity to prove to tenants that she was on our side. She has failed. A 'community benefits agreement' that didn't even ask the community what we needed or wanted is exactly the kind of thing [predecessor Laurie] Cumbo would do. Now we know where she stands." (See similar comments in
Patch's coverage
. The only other coverage so far has been from
Politico Pro
, which is paywalled.)
The CHTU was among the supporters of
a petition
that asked for a neighborhood rezoning while voting down the pending developments; Community Board 8 leaders supported the neighborhood plan as well as the towers, saying they'd bring affordable units sooner.
Gib Veconi, leader of CB 8's M-CROWN subcommittee,
congratulated
Hudson for "securing the strongest
#affordablehousing
commitment from any private ULURP in
#Brooklyn
," along with the neighborhood plan.
In response to a query sent to Veconi, Land Use Chair Sharon Wedderburn, and CB 8 Chair Irsa Weatherspoon asking for a CB 8 response, I was told (by Veconi) that CB 8 had not participated in the negotiation. Their statement:
We are encouraged that it appears a City-led rezoning of the M-CROWN district will be moving forward, and look forward to working with Council Member Hudson. We share her concerns about rising housing cost, lack of deeply affordable apartments, and displacement of long-time residents in community district 8.
The map below was created by a supporter of the petition. The two rezonings passed today are in light blue.
Original map by Kaja Kühl, adapted to add 962 Pacific; rezonings in light blue were pending;
apartment counts, from Environmental Assessment Statements, include areas beyond the
parcels owned by applicants; 1050 Pacific would now have 234 units and 1010 Pacific 175 units


Anti-displacement funds
Original 870-888 Atlantic/Archimaera
The combined $200,000, Hudson said, would "fund local community organizations to engage in anti-displacement work to assist low-income tenants and longtime homeowners to remain in their homes."
(That seems aimed to address concerns raised by organizations like the Crown Heights Tenant Union, but it apparently wasn't enough.)
That's not insignificant, but it's not huge. For comparison, the BrooklynSpeaks coalition
negotiated $250,000
for anti-displacement services in 2014 from the original developer of Atlantic Yards as part of a settlement that set a new 2025 deadline for the affordable housing. That sum was far less than requested.
It's unclear, as of now, how the various commitments will be memorialized; Community Board 8 has previously proposed an agreement, called a Community Benefits Agreement, that would be signed with the developer and include a restrictive declaration filed along with the property deed.
Veconi said there was no plan, as of now, to discuss such an agreement at the CB 8 general meeting Thursday.
Deeper affordability

Community Board 8 had
negotiated
with the developers, in exchange for their bulk request, for a commitment to the deep affordability option under MIH: to assign 20% of the units at 40% of Area Median Income (AMI) or $42,960 for a family of three. (That was part of a
tiered resolution
, passed after deep division, which first asked for a neighborhood rezoning.)
Hudson got them to commit to more: 15% of the units at 40% of AMI, plus 15% at 60% of AMI ($64,440 for a family of 3), and 5% at 80% of AMI ($85,920 for a family of three.
"That means we get 150 units of affordable housing at deeply affordable levels," Hudson said. (Well, 64 units at 40% of AMI would be deeply affordable.)
If 150 units are 35% of the total, that suggests a total of 428 units, somewhat more than the 406 total units—206 for 870-888 Atlantic and 200 for 1034-1042 Atlantic—proposed in
November discussions
with CB 8. (The former building was
originally proposed
to have 228 units.)
Update
: There will be 153 affordable units. Given the statement about 35% affordability and 150 affordable units, I did the math to estimate 428 units: 228 at 870-888 Atlantic and 200 at 1034-1042 Atlantic. But
it's plausible that
she was rounding off and there will
could
be 438 total units, given that 1034-1042 was
proposed
at 210 units, and that was memorialized in a City Planning Commission
session
a day later, as shown in the screenshot below.
Other commitments

The buildings were proposed at 17 stories, but were redesigned, at CB 8's request, to pack the same bulk into 15 stories. It's unclear if such a cap has been negotiated, since it wasn't mentioned at the Council meeting. (
Update
: it wasn't.)
According to Subcommittee Chair Kevin Riley's introductory remarks, the rezoning for 1034-1042 Atlantic would reduce the proposed rezoning area to maintain more of the existing zoning, "in an effort to maintain a broad mix of land use uses in the area until the comprehensive planning effort to treat the broader community can be realized."
That scope is unclear, but CB 8 had asked for the adjacent self-storage facility to be removed from the rezoning area.
"Both applicants have also committed to provide to mixed-use community service space," Riley said, an apparent reference to space for community facilities, as well as unspecified "other benefits."
I asked CB 8 and Hudson for details, and CB 8 referred me to the Council Member. I haven't heard back yet. Hudson has not yet issued a statement or even a Twitter mention.
The various legislative actions have not been detailed; they must first go back to the City Planning Commission for review, before passage by the full Council.
A new plan, new outreach

Hudson, in her remarks, cited the longstanding call for "a community-led plan for the Atlantic. Avenue corridor," the subject of
a letter
she and 36th District Council Member Chi Ossé sent last month to the Department of City Planning and other agencies.
Presumably it would build on the M-CROWN guidelines, as shown in the screenshot below, but if the applications just passed set a precedent, that will be for larger buildings and more affordability than previously contemplated.
"A community plan would ensure we were prepared in advance for the increased use of mass transit, sanitation, sewage, schools and other public goods and that we could secure city funding for some of these improvements," she said.
"A community-led plan represents a radical shift in how we decide on land use in our city," she said. "For generations, Black and brown folks have been excluded through legal and extra legal means alike from participating in land use decisions and community planning."
"Many have never been included in the process, nor has our government proactively reached out to these folks to get their thoughts," she said. "We've asked folks to meet us where we are and never made a good faith effort to meet them where they are." That seems a reference to her pledge for a new effort at broader community outreach.
City impact?

"But this shift cannot happen in a vacuum in my district alone," Hudson said. "There are dozens of neighborhoods suffering from the same displacement pressures… without bringing the residents to the table and giving them a chance to shape their future."
That said, it might be more difficult to negotiate with developers in neighborhoods where the housing market isn't as hot.
"This rezoning will bring about much needed deeply affordable housing for my community for those who need it most," she said. "My council district has seen the loss of one in five Black residents over the last decade and one-third of Black residents in Community District 8 currently earn between 31% and 80% of the area median income."
The lottery for affordable housing should reserve half the units for residents of the local Community District.
"The applications before you today secure truly affordable housing for some of our neighbors most at risk of displacement," Hudson said. "With your vote, we can show that the Council can do more than MIH. And with your vote, we can meaningfully show our neighbors that we're listening and are doing what we can to keep them in our neighborhoods."