With first of the 80 Flatbush towers starting, a new name, Alloy Block, but still no transparency about delayed timetable
Alloy Development, new rendering
So, on 7/19/21, Crain's New York Business offered
It's the first of the two new towers (100 Flatbush) in the project previously presented as 80 Flatbush, now renamed Alloy Block, bounded by Flatbush and Third Avenues, and Schermerhorn and State Streets. Here's the
new website
.
(So that's a little like renaming Atlantic Yards... Ratnerville? Well, the new name pushes aside previous search results.)
Actually, 100 Flatbush will now be the retail address, while the residential will be 505 State Street. (Quick, what's
560 State Street
?) Note that the new rendering, like the previous one (below), suggests that the first tower, 44 stories and 480 feet, is a bit narrower than as depicted on the project website (bottom).
How do such exclusives happen? Well, quite often, as in this case, one news outlet gets first dibs on a press release.
Change of plans, lack of transparency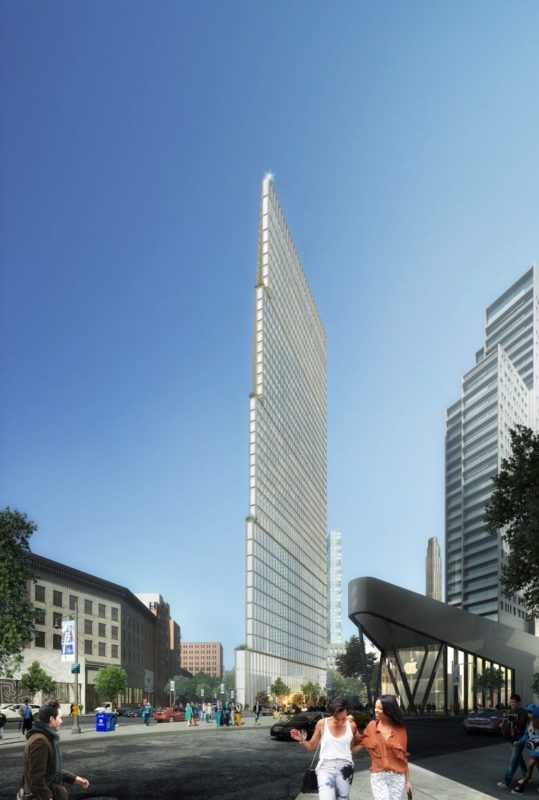 Alloy Development,
2019 rendering
I
wrote about this
in May for Bklyner, after noticing (in Department of Buildings filings) that the first tower would not contain office space, as originally planned, but 45 of the promised 200 affordable housing units. The pandemic delayed, and upended plans.
The first tower is now due in 2024, after once being projected for 2022 and then 2023.
What that also means, as I wrote, is that there's no set schedule for the second tower, which was once supposed to deliver all the affordable units by 2025:
Questions remain about when the affordable housing component of the project, its main selling piece, will be fully delivered, whether there are any meaningful penalties associated with ensuring timely delivery, and what they may be.

...But transparency regarding a delayed start remains lacking. Aiming to learn more about such penalties, this journalist on Oct. 16, 2018, filed a Freedom of Information Law (FOIL) request with the Mayor's Office and another with the Department of Education, which was referred to the Educational Construction Fund. None have provided responsive documents.
That lingering question was distilled, in the latest coverage from Patch, into:
The number of units is double what developers originally had planned for the first phase of construction. In May, they said the pandemic led them to swap 100,000 square feet of office spacefor more housing in the first round of construction, though the overall breakdown of office to residential space will remain the same at the end of the five-building project.
In the Brooklyn Paper:
As with so many developments, the pandemic delayed construction, which originally saw phase one being completed in 2022. The pandemic also changed Alloy's intended use for the building: the shorter tower was intended initially to include office space, but that was scrapped by the developer as demand for urban office space plummeted while people worked from home.
Such summaries omit when Alloy will fulfill its already delayed timetable to deliver promised benefits, whether there are penalties for delay, and the failure of the developer and the public authorities to be transparent about any penalties.
Well, at least they touched on the issue, which of course was beyond the press release that--like so much of what we read--was shaped by professionals aiming to present projects in the best light.
The press release, in full
Alloy Development Secures $240 Million for All-Electric Tower and Passive House Schools at the Alloy Block
First tower of the Alloy Block will include residences at 505 State Street and retail at 100 Flatbush Avenue

Project will feature New York City's first two passive house schools: a new Khalil Gibran International Academy and public elementary school

Construction begins this month

Downtown Brooklyn, (July 19, 2021) – Alloy Development (Alloy), in partnership with the New York City Educational Construction Fund (ECF), today announced that it has closed on $240 million in financing for the first phase of the Alloy Block (formerly known as 80 Flatbush). Construction is expected to begin in the coming weeks on New York City's first all-electric residential tower, along with the city's first two public schools designed to meet Passive House compliance, the highest standards of energy efficiency and indoor air quality. The schools include a state-of-the-art Khalil Gibran International Academy (KGIA) high school and a public elementary school. Goldman Sachs, Related Companies, and funds managed by the Real Estate Group of Ares Management provided a $240 million financing package for Alloy. That financing was brokered by Christopher Peck, David Giancola, Peter Rotchford and Jeffrey Julien of JLL. Additionally, ECF floated $152 million of bonds to Barclays to fund the construction of the two schools on the block. Construction of the first phase of the Alloy Block is expected to be finished in 2024. More information about the project is available at
thealloyblock.com
.
"We are committed to making Brooklyn beautiful, sustainable and equitable and as the city recovers from the pandemic, we hope the Alloy Block will set the standard for progressive, thoughtful development," said Jared Della Valle, CEO and Founder of Alloy. "When it comes to taking the environmental impact of buildings seriously, building truly affordable housing in wealthy, transit-rich neighborhoods, and creating healthier school environments, we are proud to play a leading role as we begin construction on the Alloy Block. Our sincere thanks to our partner, the Educational Construction Fund, and to Goldman Sachs, Related and Ares for their belief in the project and its values."
"Sustainable, inclusive residences are the future of New York City, and we are proud to invest in the Alloy Block's all-electric, mixed-income, mixed-use tower that will become the new model for environmentally-conscious urban living," said Alfred Trivilino, Managing Director, Related Fund Management.
"This investment represents a unique opportunity to support the construction of a Class A residential tower in a thriving neighborhood, while creating New York City's first Passive House-compliant public schools and new residential units under the Affordable New York housing program," said Andrew Holm, Partner in the Ares Real Estate Group. "This project underscores Ares' commitment to corporate sustainability by investing in public-private partnership opportunities that generate positive environmental and social impact. We are excited to be part of this great project as we work to realize the important benefits for all stakeholders involved."
"It is extremely satisfying to work alongside developers who are making a powerful impact, positively changing the fabric of a neighborhood," said Christopher Peck, Senior Managing Director with JLL. "Alloy is one of those developers and the Alloy Block is one of those special projects."
The first phase of the Alloy Block will comprise two components: the city's first all-electric residential tower and first Passive House-compliant public schools. The 44-story, 480-foot-tall tower designed in-house by Alloy will include 441 mixed-income residences at 505 State Street and 30,000 square feet of retail at 100 Flatbush Avenue.
The residential portion will include 396 rental apartments and 45 affordable residences with rents starting as low as $750 per month, developed in partnership with Fifth Avenue Committee, a 40-year old Brooklyn nonprofit community development corporation. Common space for residents will include a fitness center, flexible workspace, and a rooftop pool. The retail portion of the building will feature 20-foot ceilings and floor to ceiling glass fronting Flatbush Avenue in the most transportation rich location in the borough.
"The Alloy Block will address critical fair housing needs by creating truly and permanently affordable housing in one of the wealthiest parts of Brooklyn – something we're sorely lacking," said Michelle de la Uz, Executive Director of the Fifth Avenue Committee. "We're proud to partner with Alloy on this visionary project and excited to get started."
The adjacent public elementary school will be located at 489 State Street and the new KGIA high school at 380 Schermerhorn Street. KGIA, the city's first Arabic-language focused high school, is currently housed in a severely outdated building. The new facility will provide a new cafeteria, gym and library. The elementary school's gym and auditorium are positioned along State Street and will be accessible to the community. Both schools were designed by Architecture Research Office.
"The two Passive House schools that we designed as a part of the Alloy Block embody the rarest of opportunities—a new public building that combines an emphasis on design and urbanism with innovative sustainability," said Stephen Cassell, Principal at Architecture Research Office. "The result will contribute to the life and fabric of the city, while protecting its future."
Sustainability is a core component of the Alloy Block's first phase. With buildings as New York City's single largest contributor to carbon emissions and global warming, Alloy will set a new standard for energy efficient building construction with an all-electric tower. All functions within the building typically run by natural gas will be replaced to run off electricity. For example, residential units will feature induction cooktops and heat pump dryers and base-building systems like hot water heating and HVAC will be completely electric, which will eliminate carbon emissions both in the apartments and from the building. These improvements will allow the building's operations to be carbon neutral upon completion. At the same time, the schools will be the city's first to meet rigorous Passive House compliance.

The Alloy Block will comprise five old and new buildings with roughly 850 residences, including approximately 200 permanently affordable apartments, 200,000 square feet of Class A office space, 40,000 square feet of retail space, the two state-of-the-art, Passive House-compliant schools, more than 500 parking spaces for bikes – and no parking for cars. The project's second phase will include a roughly 840-foot-tall residential, office and retail tower designed by Alloy that also includes a home for a local cultural institution, along with two preserved historic structures.

The Alloy Block is a model of transit-oriented development, located adjacent to Atlantic Terminal, the city's second-largest transit hub. It's also next to the Brooklyn Cultural District, and Barclays Center. The project, which is bounded by Flatbush Avenue, Schermerhorn Street, 3d Avenue and State Street, was approved through the City's Uniform Land Use Review Procedure in September 2018.

###
About Alloy:

Alloy is committed to making Brooklyn beautiful, sustainable and equitable. As architects and developers, Alloy sees opportunity in the diversity and complexity of the urban context, and uses great architecture and thoughtful development to positively impact the built environment. Current projects include the Alloy Block in Downtown Brooklyn and 168 Plymouth Street in Dumbo, Brooklyn.