"Pro-development" BP Adams, following CB 8, recommends limiting 840 Atlantic proposal to 145 feet (with ≈39% bulk cut); urges deeper affordability
Brooklyn Borough President Eric Adams, in what may be a surprise to some, this week urged limiting the proposed 840 Atlantic Avenue tower at the southeast corner of Atlantic Avenue, saying development on that corridor—on a site largely occupied by a drive-through McDonald's—should largely conform to Community Board 8's
recommendations
.
(Here's
the document
, also at bottom.)
That means a building no taller than 145 feet and 14 stories, rather than the initially proposed 195 feet and 18 stories—and perhaps a 39% cut in overall bulk in what was proposed as a blocky stack.
That translates to perhaps 200 total apartments, with 40 of them deeply affordable, at
less than half the rent
of the income-linked units initially proposed.
Because Adams wants affordability deeper than proposed by the developer
or even recommended by CB 8
, only 20% would be required under the city's
Mandatory Inclusionary Housing
(MIH) program.
Previously, configurations with 30% or 25% income-linked units have been discussed, aimed at those with somewhat higher incomes: 316 apartments with 95 or 79 units; or 284 apartments, with 71 units. (Those totals would translate into 63 or 56 deeply affordable units, respectively.)
While the developer, Vanderbilt Atlantic Holdings, has not yet issued a statement, presumably they are not thrilled with Adams's recommendation. That said, developers regularly etch-a-sketch variations and, as the project goes through its next stages, more versions will emerge.
Note: the estimates of bulk and apartment counts are not spelled out in Adams's document, but established after an exchange with his office.
Adams an "enigma"
The surprise may relate to the fact that Adams, in his campaigns and private fund-raising, has drawn significant real-estate cash, and in his (front-running) mayoral campaign has been broadly pro-development, including calls for upzoning wealthier areas, City Limits
reported
in April.
But he doesn't automatically back each project. "I'd say he's been pretty balanced," between the desires of developers and community concerns, one Brooklyn housing advocate told City Limits, saying Adams was "a bit of an enigma."
Though Community Board 8 was nearly unanimous in recommending that 840 Atlantic, in height and bulk, conform to previously stated goals in the M-CROWN rezoning, Adams's own public hearing drew testimony almost exclusively from project supporters.
The proposed rezoning is now before the City Planning Commission, which did not have Adams's nonbinding recommendation when it held its
public hearing
on June 23. After that it goes to the City Council; local Council Member Laurie Cumbo, an Adams ally, has
said
she backs CB 8.
Setting a precedent?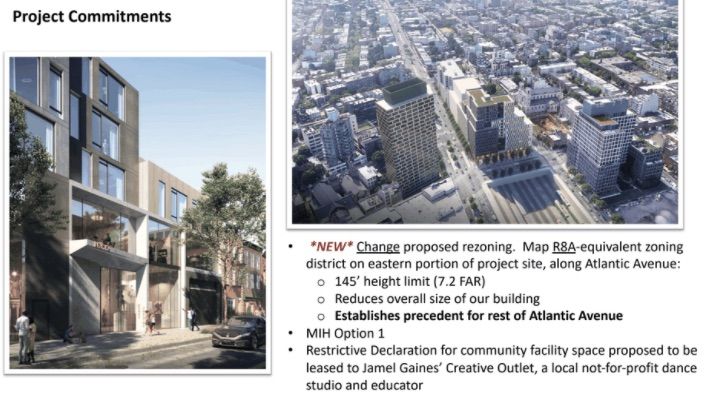 The land-use lawyers for 840 Atlantic have
argued
that a corner on two wide streets across Vanderbilt from Atlantic Yards/Pacific Park had a greater case for density than other parcels eastward on Atlantic in the M-CROWN district, and even proposed limiting the eastern section of their parcel to 145 feet to ensure a step-down precedent.
They noted that another developer, proposing a project on the south side of Atlantic, had exaggerated the scale of an 840 Atlantic rendering to make their own 17-story proposal look less dramatic.


Separately, Community Board 3, on the north side of Atlantic Avenue, just
endorsed
a proposed tower (1045 Atlantic) near Franklin Avenue, but lowered the proposed height from 175 feet to 145 feet.
That cut could give Adams some breathing room when 1045 Atlantic approaches his desk: it would be much harder to defer to the Community Board (which, after all, is half his appointees) if they had approved a building taller than 840 Atlantic.
Generally pro-density, but…
Adams' submission notes that he "supports the development of underutilized land for… affordable housing," that he supports increased density near public transit, and generally supports increased density on wide commercial streets in the underutilized area east of Vanderbilt Avenue.
"However, he acknowledges that the project represents a large jump in density from what is permitted by the underlying district," the document states. "Borough President Adams also supports CB 8's objective to establish appropriate zoning that incentivizes preferential commercial development, more deeply affordable housing, and dedicated floor area for cultural uses."
"Therefore, Borough President Adams generally concurs with CB 8's recommendation" for constraining the bulk of the building.


CB's M-CROWN plan--
endorsed
in August 2018 by Adams and Cumbo--aims to upzone an area shackled by antiquated manufacturing zoning, which prohibits residential development and constrains bulk to one-story buildings.
But M-CROWN--which aims not just to increase space for housing but also space for jobs—has not been embraced by the Department of City Planning, which has apparently encouraged larger buildings with residential space.
In terms of bulk, CB 8's M-CROWN
plan
sets a maximum Floor Area Ratio (FAR) of 7, limited to Atlantic Avenue, while Pacific Street is contemplated for
less density
.
The developer of 840 Atlantic, on a parcel that extends to Pacific Street, initially proposed a building with a blended FAR of 8.83, but requested zoning that allowed 9.7 FAR.
The blended FAR of the Adams recommendation is estimated at about 5.6, delivering a building with perhaps 212,000 square feet, rather than the initially proposed 342,610 sf. The Atlantic Avenue parcels would have a maximum FAR of 7.2.
(The initial proposed square footage and FAR likely were already downsized in the developer's revised proposal to Borough Hall, which, as noted in Adams's submission, cited 284 apartments. No bulk was specified.)
Pushing for more affordability
While the applicant initially proposed 30% affordable housing, that configuration (MIH Option 2) would deliver relatively costly units, according to Adams's submission. A three-person household at 80% of Area Median Income (AMI) earns
$85,920
and would pay $1,651 for a one-bedroom unit.
Even the
CB 8-recommended
MIH Option 1, which would offer 25% affordability targeted to households at 60% of AMI (and which the applicant agreed to in a revised presentation), isn't appropriate, according to Adams. A three-person household at 60% of AMI earns
$64,440
and would pay $1,204 for a one-bedroom.
Rather, Adams says, the building should target households at 40% AMI; a three-person household AMI earns
$42,960
and would pay $768 for a one-bedroom.
(
Update
: CB 8
recommended
: "That all lots be mapped to MIH options 1 and 3, and that the applicant make a binding commitment to offer the required affordable units under MIH option 3." See document at bottom.)
Adams's support of Option 3, the
Deep Affordability Option
notes a local divide. While the 2019 median income for Community District 8 was $75,700, which exceeds the citywide median, "it also masks the fact that 50 percent of CD 8 residents earn less than $60,000."
"Borough President Adams is concerned," the document states, "that MIH Option 1 alone would not meet the needs of very low-income and severely rent-burdened households in Crown Heights North and Prospect Heights," including those who'd gain community preference for half the spots in the housing lottery.
Adams also seeks two additional boosts for those seeking affordable housing. First, the preference in the housing lottery should be extended those going to school in the area but whose families live in homeless shelters outside the district.
Also, he calls for stretching the income limits below the current floor, thus accommodating households currently paying more than 30% of their income for housing, which is the benchmark for "affordable."
In other words, while on paper they couldn't qualify for the lottery, if they're already paying more than 30% of their incomes, they should be allowed to pay that for apartments in a new building.
Other requests
Adams also asks for several other commitments:
a bedroom mix with at least 50% two- or three-bedroom affordable housing units, and at least 75% one-bedroom or larger affordable housing units
outreach efforts to low-income seniors and two-person households
use of local affordable housing non-profits to promote and administer the affordable units
incorporate resiliency and sustainability measures, such as blue and/or green roofs, grid-connected rooftop batteries, passive house design, solar panels and/or façades, and/or wind turbines
coordinate with city agencies install rain gardens as part of a Builders Pavement Plan
construct curb extensions or enter into a standard DOT maintenance agreement for protected painted sidewalk extensions, at the intersections of Atlantic and Vanderbilt avenues and Pacific Street
fund public realm improvements such as sculptural bike racks and street benches, and sculptures incorporated into DEP rain gardens, street art integrated with sidewalk paving
engage with car-sharing companies to lease spaces within the development's garage
implement a rat baiting plan prior to and during demolition and construction
hire Brooklyn-based contractors and subcontractors, especially those who are city-designated local business enterprises (LBEs), as well as minority- and women-owned business enterprises (MWBEs), with no less than 20% participation
Most of the above were requested to be accomplished in consultation with Community Board 8 and local elected officials.