Ratner hindsight: might have passed on Atlantic Yards, as it "economically... didn't turn out as well as we expected"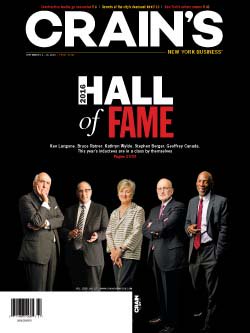 Bruce Ratner, second from left
There are some very interesting nuggets in the Crain's New York Business
Hall of Fame interview
with Bruce Ratner, who's among
five
business leaders
who have transformed the city in their professional work and in their civic and philanthropic activities."
(Here are the
2014
and
2015
inductees, which include developers Steve Ross and Steve Roth.)
Somehow the article does not contain that piquant New York Times
observation
, in 2012, about "his reputation for promising anything to get a deal, only to renegotiate relentlessly for more favorable terms."
Asked if he knew when he was going to be "really successful in real estate," Ratner said every project poses a challenge and "Atlantic Yards is wonderful, but economically it didn't turn out as well as we expected."

Additionally, he said, according to Crain's:
Ratner's Atlantic Yards development, which has since been renamed Pacific Park, has been less profitable than he originally imagined. If he knew the true economics at the outset, he said, he would probably have passed.
Verrry interesting. Surely Ratner is not reaping what he once expected.
Economics in flux
However, the "true economics" have been in significant flux, related to the very long time it took to move the money-losing Nets, which relates to how he managed the Atlantic Yards proposal, and the opposition. It also relates to his parent company's unwillingness to hold onto--and invest in--the team until the value increased upon the Brooklyn move.
Similarly, if Forest City's "revolutionary" modular construction gambit had succeeded, Ratner would be crowing about having created a new business line.
Regarding the project as a whole, surely Ratner has projected the potential returns from his company's 30% share in the non-arena (minus the B2 tower) project, given the sale to 70% joint-venture partner Greenland Holdings, and they're less than once hoped.
But Atlantic Yards/Pacific Park is by no means over, and the potential returns from condos, as well as the
rising levels of affordability
in "affordable housing," continue to make the bottom line uncertain.
And just because Forest City is not making the money once expected, that doesn't mean they're not
cheating
, as I've documented.
When Ratner says "Atlantic Yards is wonderful," that sounds like the project is done. It very much remains in flux, and his company continues to jockey for future advantage, including
the right to move
a huge amount of bulk to build a giant two-tower project on Site. 5.
And the impacts on residents continue.
More back story
Asked how he became interested in Atlantic Yards and the Barclays Center, Ratner responded:
I believed it would be great for Brooklyn to once again have a team and sport to rally around, and what better sport than basketball? I had a friend who was a part-owner of the New Jersey Nets and had heard they wanted to sell, so I put together a group to buy the team and build the arena. Residential was to make the economics work.
Bruce Ratner, a guy who barely understood basketball? I'll go with cousin Chuck Ratner, then CEO of parent Forest City Enterprises, who on 9/9/05
told
investment analysts:
"I will confess that it was less than two or three years ago we were sitting around in New York wondering where the next deals were going to come from. We had finished a whole bunch of office and we completed MetroTech and we didn't have the next great site in Brooklyn. That was one of the reasons we got so aggressive and creative, Bruce and his team did in this Atlantic Yards project. We saw that land sitting there for this last 10 years, realizing it would be a great opportunity if somebody could turn it on."
Note that Bruce Ratner said "Residential was to make the economics work," without mentioning--at least in the published version of the interview--office space, which was a huge part of the original plan.
Asked if the criticism of Atlantic Yards ever got to him, he said it did, at the beginning, "because I wasn't used to being publicly criticized. As the Con­sumer Affairs commissioner you only do good."
C'mon, he was a developer for a long time, facing lawsuits from people in his path and also rivals, long before.
Missing from the Q&A, of course, are any questions about, say, selling the arena and team to Russian oligarch Mikhail Prokhorov, or selling the rest of the project to Shanghai government-owned Greenland.
Ratner mellowed
There's a valedictory feel to the interview, in which Ratner, asked what he'd do differently, says, "Every time I yelled at someone I would take it back. I wouldn't have yelled. I'm sorry."
Interesting. Does that include the not-so-mensch-like
behavior
toward one-time partner Skanska? Or the "
screaming"
at underling Bruce Bender? Or how, as the Times
reported
, he "loudly berated Rafael E. Cestero, then the housing commissioner, and Seth W. Pinsky, president of the city's Economic Development Corporation, after not getting his way."
Asked about regrets, he said, "I have had to let lots of people go because of recessions," and cited especially long-time employees.
I'm not sure he can blame it solely on the business cycles. In some cases, it surely relates to his company's own decisions.
Asked at the end to a solution to people's economic fears, Ratner cited the trend in which companies like Facebook grow in value but have far fewer employees than typical valuable companies. No solution, though.
Finally, the interview states that he "currently lives in the East Village." Given that Ratner is
known
for living in an Upper East Side townhouse, presumably that's related to his
marital split
.
And more...
Check the
Crain's Insider
for an odd and kinda nasty way to link this: