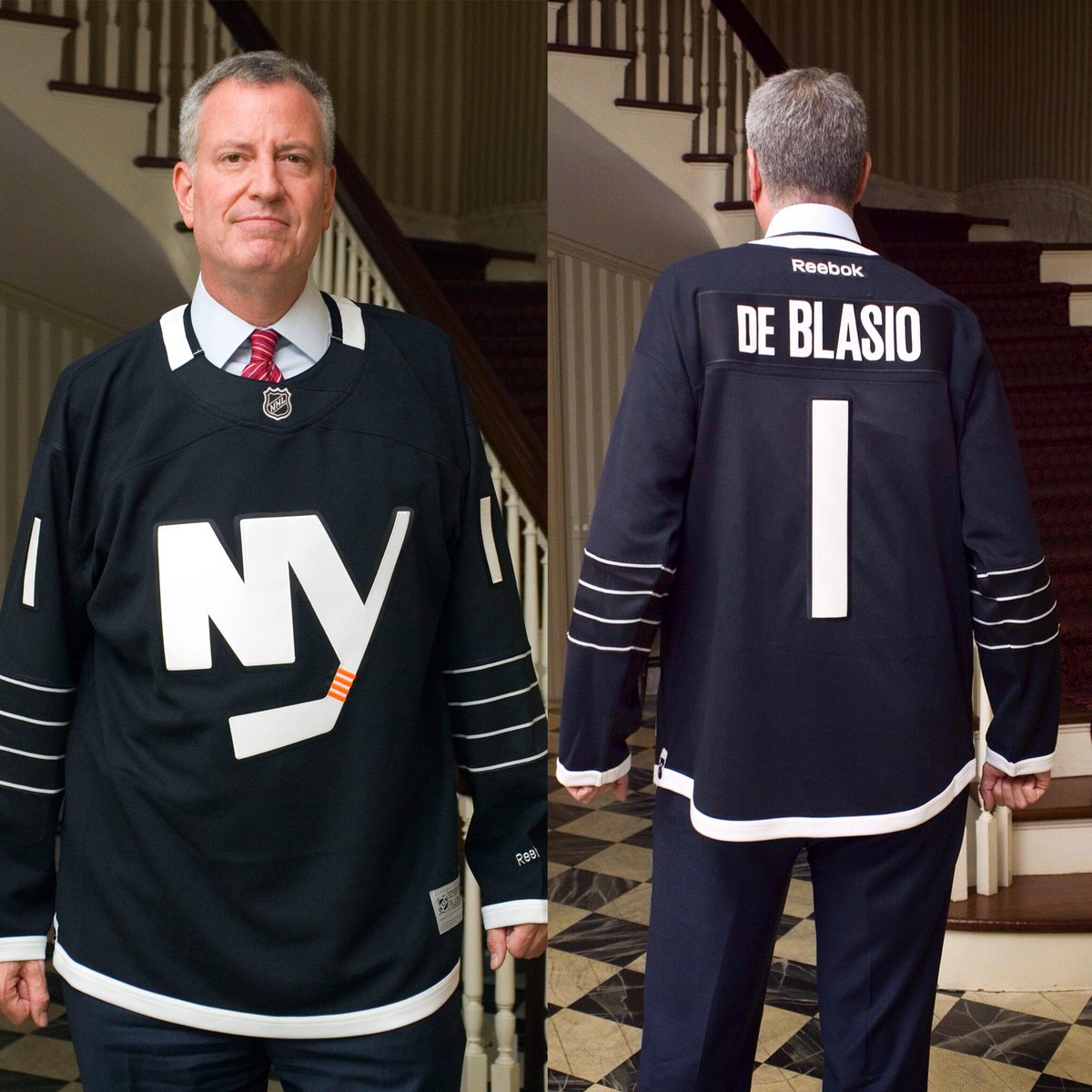 It's the visuals that count.
The large photo below accompanies a New York Times Sports section piece today,
Islanders Embrace Their Future in Brooklyn While Staying Connected With the Past
.
See Brooklyn Borough President Eric Adams, NHL Commissioner Gary Bettman, WFAN's Craig Carton, Barclays Center developer Bruce Ratner, and arena/Nets CEO Brett Yormark all posing with new alternate, black-and-white jerseys for the New York Islanders. It's would look perfect in a press release.
Hey, where are the Islanders' owners? Do note that New York City Bill de Blasio
did model a jersey
, too, as pictured above right.
Photo: Alex Goodlett for the New York Times
Bettman, once skeptical of the move to Brooklyn, talked up the location. The Times reports:
Bettman cited history as he touted Barclays Center, where the Islanders will host the Stanley Cup champion Chicago Blackhawks in the season opener on Oct. 9.
"An arena sits where Walter O'Malley wanted to build a domed stadium for the Dodgers," Bettman said, referring to the ill-fated plan to keep Brooklyn's baseball team from leaving for Los Angeles. "It took a lot of work to fill the vision he had in mind. We look forward to a new fan base in Brooklyn."
Actually, O'Malley didn't want to build there,
but nearby
. The Times notes that the players and practice aren't moving to Brooklyn yet, but rather will stay on Long Island. (With the Nets practicing in New Jersey--which should change this season--most players lived in Manhattan.)
The new jersey and the reaction