In reversal encouraged by CM Cumbo, CB 8 *committee* endorses developer's 10% cut in proposed 840 Atlantic tower, gaining commitment for lower-income units
Updated to clarify the headline and text: this was a committee vote, not that of the full board.
In a hastily-called vote Sept. 2, Brooklyn Community Board 8's Land Use committee revisited (
video
) the proposed 840 Atlantic Avenue tower, which it had previously rejected without major cuts in bulk, and endorsed a pre-negotiated reduction of about 10%, gaining a commitment for lower-income apartments and a stepdown in scale, from 18 stories at Vanderbilt Avenue to 14 stories further east.
No new image was released, but the proposed
changes should be near my annotations
They also gained an enforceable promise of lower-cost space for an arts center, initially occupied by the dance theater/school Jamel Gaines Creative Outlet, at the tower.
The corner site is today largely occupied by a drive-through McDonald's and opposite the northeastern corner of the Atlantic Yards/Pacific Park site.
The issue goes to the full Community Board Thursday Sept. 9, whereafter a formal agreement may be unveiled, and is expected to go to the City Council on Sept. 13.
The version endorsed by the CB 8 committee, one of two suggested by developer Vanderbilt Atlantic Holdings (VAH), would include 270 total apartments, with 54 (20%) deeply affordable units. That translates to a one-bedroom renting for $756, at least at
2021 income levels
.
The building was proposed with
307
316 apartments, including 92 (30%) moderate-income units--a one-bedroom at $1,651--or, had it been presented as deeply affordable, 61 (20%) low-income units. (The previous CB 8 resolution would've enabled 193 apartments, with 39 low-income units.
Update
: The mistaken 307 figure comes from the spreadsheet below.)
That avoids a clash between the de Blasio administration, whose City Planning Commission had already endorsed the original version of the tower, and a City Council that typically—but not always—defers to the local Council member, in this case Majority Leader Laurie Cumbo.
A reversal
(
Updated
) The committee vote represented a reversal of the board's past resistance and the policy, endorsed in an August 2018
letter
signed by Cumbo and Borough President Eric Adams—and recently
reconfirmed
by both
—supporting the board's proposed M-CROWN rezoning, aimed to ensure job-creating uses and limit buildings in previously fallow manufacturing zones to a 14-story limit.
(Update: I'd add that CB 8 also wanted a comprehensive neighborhood rezoning that would deliver infrastructure and other public benefits.)

Behind the scenes, VAH apparently told Cumbo and CB 8 leaders that the board's proposed alternative was unbuildable. And, like many developers, it had prepared alternate versions, at somewhat lower scale but still delivering sufficient financial returns.
Indeed, the latest version differs only somewhat from VAH's previously
floated
7% cut, part of
a compromise
proposed in May that did not include 20% low-income units. (No unit count or building design was detailed.)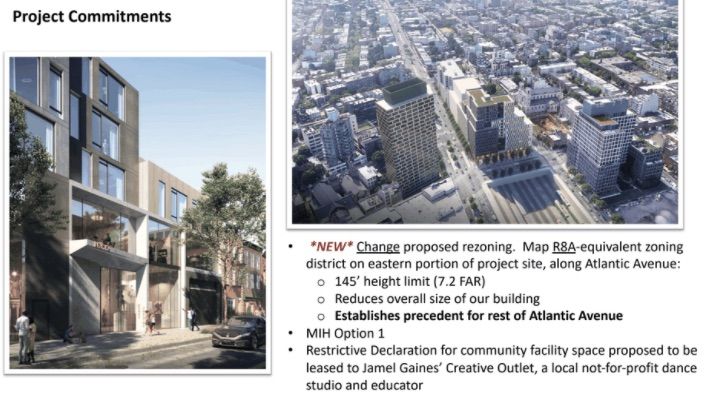 Developer's proposed compromise, May 6, 2021, did not offer 20% low-income units
During the Sept. 2 meeting, Land Use Chair Ethel Tyus said that adding density beyond M-CROWN "is something Majority Leader Cumbo is willing to give to this applicant, in exchange for the additional affordable units."
(I have a query in to Cumbo's office and will add a statement if/when I get one.)
Assuming City Council approval, that does not necessarily enable immediate construction. A federal
lawsuit
filed by McDonald's, which charged that a dramatic rent increase was aimed to eject them, is ongoing, with a January 14, 2022 deadline to complete discovery.
That said, progress on the rezoning may spur settlement discussions.
Some promises already on the table
As noted, VAH's commitments, including the 14-story limit at the east along Atlantic and the permanent arts center, reflect some previous proposed compromises. The developer had already proposed changing the affordable configuration to a separate alternative, with 25% of the units affordable, including 10% deeply affordable.
The version endorsed by the CB 8 Land Use Committee, one of two proposed, is below as "VAH new 1," as shown in a spreadsheet presented by the committee's Gib Veconi.
While the city's
Mandatory Inclusionary Housing
policy requires affordable units with an upzoning, with multiple options, it cannot guarantee the configuration. The original 840 Atlantic proposal would've aimed units at those earning 80% of Area Median Income (AMI), or $85,920 for a three-person household, while the revised plan targets those earning 40% of AMI, or $42,960 for a family of three.
The building would go from the proposed 326,950 square feet to 293,200 square feet, a cut of 10.3%. Put another way, the blended Floor Area Ratio (FAR)—given the different components of the site—would go from 8.4 to 7.6, a 9.5% cut.
The majority of the cut would be in the back of the building, opposite lower-rise Pacific Street, plus a section at the building's east flank, along Atlantic Avenue. That memorializes a Floor Area Ratio of 7.2, allowing a 14-story section, thus--as previously proposed by VAH--setting a precedent for the height and bulk to the east, conforming to CB 8's M-CROWN plan.
A larger change is a new setback along Pacific Street, 100 feet high and 40 feet deep, but no renderings were shared with the Land Use Committee, some of whose members expressed dismay that they had been requested to vote with little opportunity to absorb the proposed changes.
Nevertheless, the committee voted 17-3, with one abstention, to approve a motion endorsing the alternative with a slightly greater cut in bulk. Some non-members at the virtual meeting, who live on Pacific Street, expressed criticism.
The developer prevails

The result seems a victory for VAH, whose financial assumptions were apparently taken at face value, though they were not shared publicly. (The rezoning, as I estimate below, is worth tens of millions of dollars in buildable square feet.)
VAH also faces unresolved questions regarding its ownership. For example, while even supporters have
suggested
that The Rabsky Group, a large,
secretive
, and sometimes
controversial
developer around Brooklyn, is the driving force, VAH spokespeople say that Rabsky is a passive investor.
(VAH involves an alliance between the longtime owner of the McDonald's lot, and new investors, who have made agreements regarding that lot and adjacent properties.)
"We think this is a very special corner that warrants a density comparable to the corners across the street," VAH principal Tom Li said at the meeting, making the not unreasonable point that the two wide streets bordering the site and the location's proximity to transit argue for somewhat more density than elsewhere in M-CROWN.
Then again, such comparisons aren't simple. The 29-story 809 Atlantic Avenue on the north side of the street is thinner and
less bulky
, at 277,500 square feet, and relies on air rights from an adjacent church.
While the proposed B10 tower of Atlantic Yards/Pacific Park, on the west side of Vanderbilt Avenue, could be
313 feet tall
, that project's eastern half was approved at an
FAR of 7.4
, counting the streetbeds incorporated into the site as open space, or 8.2 without the streetbeds. It also involves major new infrastructure--decking a railyard--plus open space, and 35% affordable housing, albeit without a promise of 20% low-income housing.
(Note: construction of the B10 tower is not assured and, if so, it's likely the last to be built, perhaps as late as 2035.)
The new proposals
At the Sept. 2 meeting, Land Use Committee member Veconi, a key architect of M-CROWN, told the audience that VAH had communicated to him, Tyus, and Board Chair Irsa Weatherspoon "a proposal that is that is different enough from what was presented when the Community Board voted on it, that we believe is due consideration by the committee."
Though Veconi said "the Community Board's opinion will have a large effect on the City Council Member's opinion," Tyus's later statement suggested that Cumbo—who as Council Member appoints half the board members—was the driving force.
After Veconi showed the spreadsheet describing the potential reconfiguration, VAH principal Li attempted to describe the building's new appearance, likening to the setback to those at Atlantic Yards/Pacific Park buildings on Dean Street.
Veconi then presented a proposal that endorsed the first configuration ("VAH new 1"), limiting the scale at the eastern end of the Atlantic flank, requiring a setback along Pacific; a binding commitment to provide 8,000 square feet for permanent use as an arts center; a binding commitment to provide non-residential use of 50,000 square feet, thus ensuring jobs; and affordable housing aimed at low-income households.
The provision of deeply affordable units, Veconi said, represents "a significant concession on the part of the developer"—given that no previous CB 8 land use application had delivered such units—and would result in "either 15 or 20 more deeply affordable apartments than the Community Board's resolution would have provided."
He noted that the median income in CB 8 was once 60% of Area Median Income, and now exceeds 80%, "not because people here have just earned more money in the last seven years, it's because of displacement."
The 50,000 square feet of nonresidential use, he said, reflected CB 8's request for such job-creating space in exchange for an upzoning.
What's possible

Veconi noted that, had the original CB 8 resolution for a smaller building been approved by Council, they wouldn't be able to guarantee the permanent use of the arts center or the deep affordability.
Asked by Sarah Lazur, a member of the Crown Heights Tenants Union, about increasing the number of affordable units beyond the requirement, Li said "we're trying to find the right balance between the affordable units, and some of the other items," including the arts center, which will be offered at below-market rent.
"Unfortunately, to increase that number [of affordable units] even slightly has a very significant impact on our projections," said Li.
"If the rezoning is at a lower density, unfortunately, we simply cannot include the deeply affordable units," he said, adding that the second floor of commercial space "unfortunately we actually don't see that as generating profit."
Separately, Li said that a rezoning approved at the dimensions of the initial CB 8 resolution would've halted their plans, "so nothing will happen"—another claim that was not ventilated.
A Community Benefits Agreement?
The proposal was presented on the
CB 8 agenda
as a Community Benefits Agreement (CBA), a term used to describe developer's promises outside a formal governmental process, though such CBAs, according to best practices,
involve a coalition
and an opportunity for public discussion of the promises.
After the vote, Committee member Cathy Iselin recommended that, in the future, they "receive the proposals way in advance of reading them on the same night that they're brought to the committee."
"Cathy's point is well taken," Veconi said. "It's not the ideal way to do it."
What's it worth?
The version recommended would contain 293,200 square feet, including 242,550 square feet of residential space, divided among 48,510 square feet of affordable units and 194,040 square feet of market-rate ones.
Here's my speculative math on ways to approach the upzoning's value.
New development in Prospect Heights might be valued at $264 per buildable square foot (bsf). That's based on TerraCRG's 2020
market report
, which valued residential transactions in Park Slope at $341/bsf and those in Crown Heights at $187/bsf—and then splitting the difference for Prospect Heights, which was omitted.
At 293,200 square feet, multiplied by $264/bsf, the upzoning value of 840 Atlantic exceeds $77 million. Using the Crown Heights valuation, it's nearly $55 million. But not all components are as profitable.
With the residential component at 242,550 square feet, multiplied by $264/bsf, the upzoning value exceeds $64 million. Using the Crown Heights valuation, it's over $45 million.
With the market-rate residential at 194,040 square feet, multiplied by $264/bsf, the upzoning value exceeds $51 million. Using the Crown Heights valuation, it's over $36 million.
That all requires adjustment, since the provision of below-market arts space and the (apparently) non-profitable commercial space, along with the affordable units, offset some of value of the upzoning. But it leaves the developer's assertions tough to evaluate.
City
lobbing records
show that VAH has paid Hirschen Singer & Epstein, the law firm
representing
the project and making presentations to local bodies, nearly $98,000 over the first half of 2021. Peviously, VAH spent more than $42,000 in
2020
, more than $49,000 in
2019
, and more than $14,000 in
2018
.