Rounding up the Nets: Kyrie Irving concerns (and billboard); CEO's swift exit; for fandom, borough identity trumping all?
The Brooklyn Nets have sometimes been impressive, and star guard Kyrie Irving can dazzle, but they're a perplexing 5-7, even after last night's shorthanded (without Irving or Caris Levert)
win
against the weak Chicago Bulls.
That said, last year they took a while to gel, and everyone's waiting for Kevin Durant to re-appear next year, anyhow. And the Nets always look better than the trainwreck of the New York Knicks,
at 3-10
and subject to perpetual criticism.
But let's catch up on a few things.
The Irving factor
First, a long 10/29/19 ESPN article by Jackie MacMullan,
For the culture: KD, Kyrie and what comes next for the Nets
, cited a few anecdotes showing that Irving marches to his own drummer: he refused to work with the team's performance specialist, and wouldn't take off his cap at a photo shoot.
That doesn't make him a team killer, though. "I look at Kyrie as somebody who is an artist," Durant told ESPN. "You have to leave him alone. You know what he'll bring to the table every night because he cares so much about the game.
The Daily News' Stefan Bondy, in a 10/31/19 article,
Deron Williams' time in Brooklyn is a cautionary tale for the Kyrie Irving era
, described another moody point guard, noting that Irving's second season in Boston reflected a similar locker room atmosphere, but set out contrasts: Irving's a better player than Williams, and is liked by his teammates in Brooklyn.
Bondy reported that Irving has a personal security guard paid by the Nets, who wasn't previously affiliated with the team.
Kyrie Irving now torturing Knicks in new ways
, the New York Post's Brian Lewis reported 11/5/19, explaining, "And now a new billboard went up right on the corner next to [the Knicks' Madison Square] Garden featuring the New Jersey-bred Irving's face, along with the quote: 'In my heart, I knew I always wanted to play at home.'"
It's from Nike, not the Nets, but it's definitely a dis. And it's reminiscent of that 2010 Mikhail Prokhorov/Jay-Z "Blueprint"
billboard
near the Garden. Except then the Nets didn't have the players.
Nets' GM departs after two months
In a surprise move that really hasn't been explained, Nets/Arena CEO David Levy left--by mutual agreement, aka resigned/fired--his job after less than two months.
Nets C.E.O. Abruptly Steps Down
, the New York Times reported 11/12/19. The only hint of an explanation came from a statement by interim CEO Oliver Weisberg that "it's important that ownership and management are completely aligned on our go forward plan."
Levy told the Times, "It wasn't one thing. It just wasn't the job I signed up for." It wasn't, he said, about owner Joe Tsai's much-criticized defense of China's pushback on Houston Rockets GM Daryl Morey, after he supported protesters in Hong Kong.
It probably wasn't Levy's
absurd claim
that the Barclays Center would be busy 285 days a year, either.
The Nets as Brooklyn's team?
An 11/14/19 essay in the Guardian,
Will the Nets ever really be Brooklyn's team? It's complicated
, suggests the Nets/arena represent "to Brooklynites both a hip alternative to the dismal Knicks and a symbol of gentrification and erasure."
Writer Brian Josephs quotes his Uber driver as saying he liked the Barclays Center, who "scoffed" at the notion that gentrification symbolized erasure, saying "There was nothing there" at the arena site."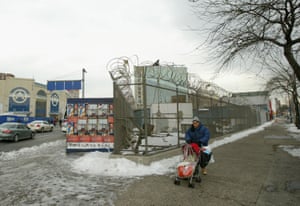 Well, partly. Depends where you looked. (There were luxury condos, too, and public streets, which a different Uber driver might have mentioned.) And depends on whether you think the city and state's failure to market/monetize public property--the MTA's Vanderbilt Yard--is meaningful.
Notably, the article contains a photo of the barbed-wire-enclosed city property at the tip of Flatbush and Atlantic avenues, which I
just reported
was appraised at an astounding $220,000--quite generous to the developer.
Getting into the mindset
Josephs isn't a Knicks fan:
Some stick by because the spectacular mediocrity is a way of life at this point. I'm not part of that some: You're birthed into a set of struggles when you grow up in a Caribbean working class home in Brooklyn; if there's a voluntary hardship, I'll opt-out.
But he recognizes the changes:
The neat story of Brooklyn is of a borough that's survived the debasement of the crack era and soaring murder rates. But that narrative is about change of one thing. New Brooklyn and Old Brooklyn aren't quite the same; the former is a capitalist force that's imposed on the latter.
He doesn't blame the Barclays Center but acknowledges it's a symbol. And he recognizes that the project is behind on the affordable housing, and that the beneficiaries are a Chinese real-estate company and Russian oligarch.
As to the Nets' use of Jay-Z, he writes, "But taking on hip-hop aesthetics seem at odds with city policy's historic impetuousness against the black working class from which the culture originates."
It's simple: Brooklyn
In the end, though, Josephs embraced the Nets, as simple borough identity trumps the complications:
A lot of working-class Brooklyn's fate has been decided by various systemic cruelties, policies and capitalist ambition, long before "gentrification" became common lingo, during every one of the Knicks' losing spells. Those ailments all follow Barclays, but it's myopic to pin them solely on the arena. What's a more specific experience to the Nets is how it grew from having a washed-up Joe Johnson to having Kyrie Irving getting buckets across the street from the decades-old PC Richard & Son. To love a sports team is an inherently vicarious endeavor; Jackson and I took pride in how our relationship with the Nets is a bit more intimate.
"The rest of my family, they root for the Nets but they're still Knicks fans. They're like, 'Nah I can't just go against the Knicks like that." Jackson said as he drove away from Barclays. "But for me, nah. That shirt say Brooklyn. That birth certificate say Brooklyn. I'm going for Brooklyn."