Curbed New York on 11/27/19 included the Barclays Center--the only Brooklyn example, and one of two outer-borough picks--among
NYC's 10 most important buildings of the past decade
. Wrote Amy Plitt:
When the Brooklyn Nets' new stadium opened at the corner of Flatbush and Atlantic avenues in 2012, it was in some ways the culmination of a 55-year-old scheme to bring an arena to the neighborhood. A stadium was first proposed for the site in 1955 by former Brooklyn Dodgers manager (and likely contender for most hated Brooklynite) Walter O'Malley; a battle with Robert Moses (who preferred Flushing for a stadium) ensued, and ended with the Dodgers packing up and moving to Los Angeles in 1957.
Decades later, the path to the new stadium was just as filled with twists and turn: Frank Gehry was originally tapped to design the stadium, which was to be the centerpiece of the long-delayed (and oft-contested) megaproject formerly known as Atlantic Yards. But Gehry's design was scrapped in 2009, and SHoP stepped in, ultimately designing the hulking, curved structure (covered in pre-rusted weathering steel) that stands today. It signaled a new era for Brooklyn, for better or worse.
My posted comment corrected a couple of things:
Re the Barclays Center arena, Walter O'Malley wanted that area, sure, but a site nearby, not the same site.
After Gehry's arena was scrapped, Forest City Ratner hired Ellerbe Becket (now part of AECOM), and attempted to essentially transpose the Indianapolis arena to Brooklyn. After those plans leaked, SHoP was hired to wrap the building anew (and also designed interiors).
So the arena's distinctive exterior is SHoP's work, but they're not the arena architect.
Also, an arena is not quite the same as a stadium, given that the former is enclosed and the latter usually not, and larger. Walter O'Malley was the Dodgers' owner.
The bigger picture
That said, it's hard to quibble with the Barclays Center on that list. Some people hate the architecture, more love (or like) it, but it has helped signal that new era.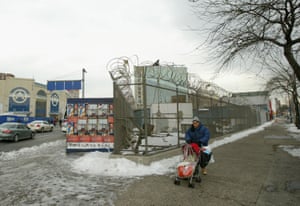 It also signals, as I've contended, a Culture of Cheating, from the developer behind it to many government enablers and endorsers. For those who know the full story, it's hard to see the building just as an arena.
The photo at right accompanies a 11/14/19
essay
in the Guardian on the Brooklyn Nets. in which writer Brian Josephs quoted his Uber driver as saying he liked the Barclays Center and "There was nothing there" at the arena site."
Well, partly. Depends where you looked, as I
wrote
. (There were luxury condos, too, and public streets, which a different Uber driver might have mentioned.)
That barbed-wire-enclosed city property at the tip of Flatbush and Atlantic avenues--only a fraction of the arena site--was, I
reported
was appraised at an astoundingly generous $220,000. And the chances of even that to be repaid are
pretty slim
.
It's easy to argue between something beats nothing. But the city and state never tried to market the valuable railyard for development, and Forest City Ratner came up with a plan, a plan that turned out more vexing than expected. That much-praised plaza, for example, is a
complete accident
.
So it's harder to imagine the alternative paths to development. But this project was surely not the only option.