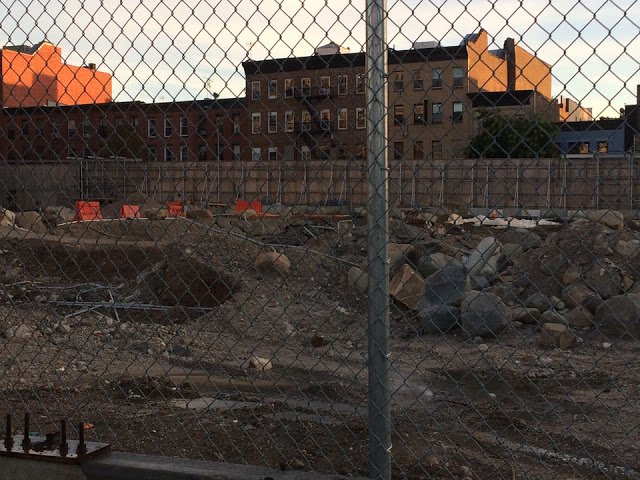 The current "outdoor space" next to 550 Vanderbilt
It's a thing, isn't it. At least the third (
Part 1
,
Part 2
) style blogger paid to create content enthusing about the 550 Vanderbilt condo building has delivered, spreading the lie that it's "right in the middle of 8 acres of outdoor space."
This one also continues the tricky strategy of selling Prospect Heights, which has a lively shopping strip on Vanderbilt Avenue, despite developer Greenland Forest City Partners' claim that the unbuilt, 22-acre Pacific Park site constitutes a new neighborhood.
And, of course, the actual
cost of apartments
--one-bedroom units start at $890,000 and quickly vault $1 million--goes unmentioned.
But let's look briefly at
FINDING A HOME IN NYC
from The View from 5'2" producer
Christine Petric
, who has a very impressive list of "brand collaborators."
She writes:
Finding a place to truly call home in New York City is extremely tough...
Until this year I would've thought that was just how it goes, but now I know it doesn't have to be that way. As most of you guys know we just moved into a new apartment in August and absolutely love it....
But one day in the near future we're going to need more space and eventually want to own something of our own.... I used to think it was impossible to truly stay close to the city and have a lot more space and keep those kinds of amenities.
We had a chance to visit a new luxury building called 550 Vanderbilt right in the middle of 8 acres of outdoor space and a beautiful Frank Gehry designed area called Pacific Park and realized that it's not only possible, but there are so many more options than we ever realized in Brooklyn....
It's not only a stunning building, but truly a place that you could call home and raise a family. There's a roof deck with a gorgeous view for dinner parties, a daycare center going in Pacific Park and tons of retail and restaurants a stone's throw away.
(Emphases added)
Wow, she didn't know you could get a nice apartment with amenities if you had $1 million to spend? What doofus demographic is this aiming at?

So she and her partner visited Soda Bar, ate dinner at Faun, and topped it off at Ample Hills Ice Cream. Nice night! Lots of photos!
Her piece ends: "A huge thanks to Berlin Rosen and 550 Vanderbilt for partnering with us for this post!"