In surprise, Nets name Hall of Famer Steve Nash as head coach; legacy of work with Warriors and Durant, questions about experience and racial optics
In a shock to NBA watchers, the Brooklyn Nets yesterday announced the hiring a new coach who no one knew was on the market: former Phoenix Suns point guard and Hall of Famer Steve Nash, who has no head coaching experience but was a player development consultant to the Golden State Warriors and thus built a close relationship with Kevin Durant, who makes his Nets debut the next season after a prominent free-agent signing and a year of rehab.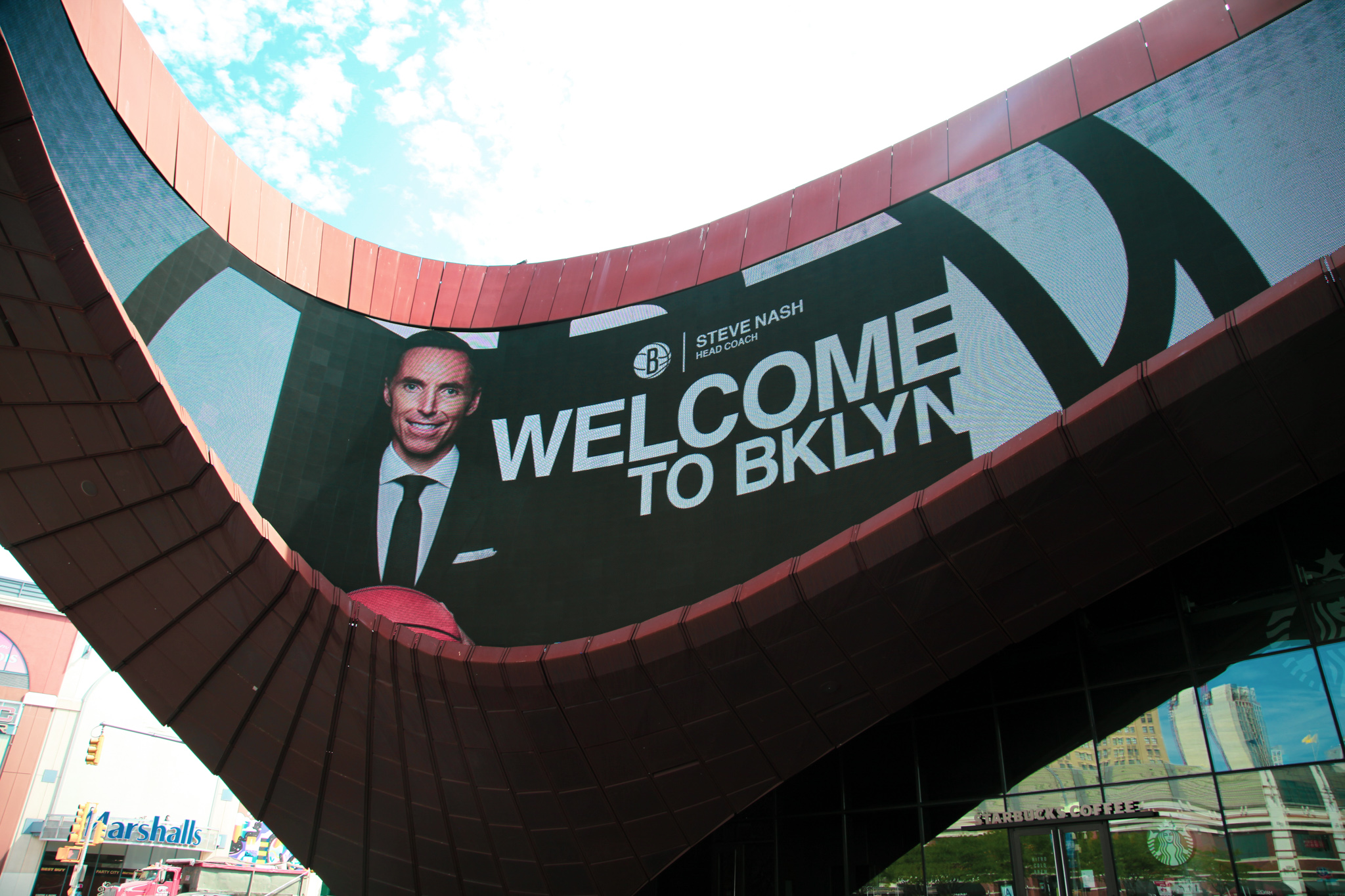 Brooklyn Nets twitter yesterday; today, the
Martin Luther King Jr. quote is back at the oculus
Nash will be introduced at a virtual press conference next Wednesday. His signing, for a four-year contract, gives the Nets star power and basketball savvy, but--as various commenters suggested--raised questions about the risks with a new coach and about hiring a white coach to
replace a Black one
in a mostly-Black league that still scants Black coaches.
In Hoops Hype, Michael Scotto
summed up
the mixed opinions. Those cheering the hire cited examples of former players who'd easily took over as coaches, Nash's knowledge of the Warriors' winning culture, and Durant's backing, plus the role of Jacque Vaughn, the Nets' widely praised interim coach, who will stay on as an assistant.
"The Brooklyn roster now is a win-now team but also has at a minimum three-year shelf life to win a championship," former Nets assistant Bobby Marks tweeted, while another coach observed that offered far more time than the short window involving Kevin Durant, Paul Pierce, and coach Jason Kidd.
Others, though, warned of Nash's inexperience and the racial optics.
The press release
In
BROOKLYN NETS NAME STEVE NASH AS HEAD COACH
, the team quoted the GM:
"After meeting with a number of highly accomplished coaching candidates from diverse backgrounds, we knew we had a difficult decision to make," said General Manager Sean Marks. "In Steve we see a leader, communicator and mentor who will garner the respect of our players. I have had the privilege to know Steve for many years. One of the great on-court leaders in our game, I have witnessed firsthand his basketball acumen and selfless approach to prioritize team success. His instincts for the game, combined with an inherent ability to communicate with and unite players towards a common goal, will prepare us to compete at the highest levels of the league. We are excited to welcome Steve, Lilla, Lola, Bella, Matteo, Luca and Ruby to Brooklyn."
NetsDaily
reported
that, in a podcast interview with Adrian Wojnarowski, Marks said that Nash approached him, a former teammate and longtime friend.
From the new hire, in the press release:
"I am honored to have this opportunity with such a first-class organization and would like to thank Sean, Joe and his wife, Clara, for having faith in my ability to lead this team forward," said Nash. "Coaching is something I knew I wanted to pursue when the time was right, and I am humbled to be able to work with the outstanding group of players and staff we have here in Brooklyn. I am as excited about the prospects of the team on the court as I am about moving to Brooklyn with my family and becoming impactful members of this community."
The optics
In a
sympathetic interview
, Marc Spears of The Undefeated likened Nash--born in South Africa, raised in Canada--to Gregg Popovich and Steve Kerr, "two white NBA head coaches who have not been afraid to tackle issues of social injustice and racial inequality publicly." From the interview:
"As a human being, it's hard to live with racial injustice," Nash told The Undefeated in a phone interview on Thursday. "It's important for white people to take a deep look at what is occurring in our communities and what has been occurring for 400 years. A component of this conversation needs to be that white people need to not be offensive about white privilege or inequality. They just need to be honest, have those conversations and ask ourselves how we would feel if we had endured this 400-plus-year history.
He cited the $50 million
social justice initiative
announced by Nets owners Joe and Clara Wu Tsai. (I'll write more on that shortly.) Given that the Nash hire was
apparently decided
in May, it seems logical that the Nets would want to announce that community commitment as a partial inoculation before hiring a white coach, albeit one favored by a Black star, Durant.
In The Root, Jay Connor wrote
White Privilege Strikes Again: Nets Ignore Bevy of Qualified Black Coaches in Order to Hand Steve Nash the Keys to the Kingdom
, citing the example of Patrick Ewing, who served 15 years as an NBA assistant but never got the job
In Deadspin, another Black writer, Carron J. Phillips, countered with
The Steve Nash Hire Isn't About White Privilege
, citing the examples of Black coaches, similarly former point guards (including the Nets' Jason Kidd), hired with no experience.
White privilege, Phillips wrote, is real, but "this was all about fit," given the role of Durant. Then again,
wrote
Kristian Winfield in the Daily News:
It shouldn't be the players' jobs to make owners say Black Lives Matter or turn arenas into polling places in a pandemic. But the teams' track records are clear. Employing Black coaches — much like prioritizing police brutality in the Black community — will only be a priority if the players make it one.
The KD complication
Nets' risky hiring of Steve Nash will rise or fall with connection to Kevin Durant
, the Daily News' Stefan bondy wrote, noting that star power doesn't tranlate into coaching success, and suggesting that "Nash now has a two-year window to win a championship."
Unlike Kidd, Nash has had a few years from playing to gain some distance from the court, and doesn't come with the temperamental baggage. But Bondy suggested that some of the same questions persist, regarding a coach growing into the job, working overtime, and managing a new relationship with players.
He notes:
We do know that Nash, a Hall of Fame player, has the appropriate even-keeled temperament for the job. He comes across as humble and will be a polished/willing spokesman for the franchise. That last part is key because, to date, Durant and Irving have shown little interest in doing the promotional work and media events for the Nets. That's fine because their sole focus with Brooklyn should be winning a title in the next two years. As great and personable as [former coach Kenny] Atkinson and Jacque Vaughn were in media sessions, the public will care a lot more about what a two-time league MVP has to say.