No wonder Mikhail Prokhorov is using the Brooklyn Arena Local Development Corporation (BALDC) to refinance Barclays Center debt and save
tens of millions of dollars
. The sale of some $482 million in bonds--mostly tax-exempt, except $20 million in taxable bonds--is Tuesday.
For one thing, it's a no-brainer. As
noted in the Bond Buyer
, "[l]ow interest rates and a favorable environment for sports facility financing favor Prokhorov," according to Randy Gerardes, a director at Wells Fargo Securities. Presumably the long-term yield will be less than 6.48%, as issued in 2009.
(Of course this raises the question about why New York State isn't asking for anything in return, as I wrote.)
For another, more speculatively, Prokhorov, his billions shrinking and his stature in Russia more wobbly, has come to care very much more about his Brooklyn investments, according to Bloomberg.
Changes point to Brooklyn
The 8/1/16 Bloomberg article,
As Kremlin Ties Turn Frosty, Oligarch Nets Owner Buys Up Brooklyn
, notes how the "Federal Security Service
had raided
the offices of his headquarters and other companies -- an apparent sign of dissatisfaction at the highest levels.:
Some top editors of his media company, RBC, are gone, no longer antagonizing the Kremlin, he's
sold
his $2 billion share of the fertilizer company Uralkali, and he's trying to sell the $900 million he owns of the aluminum company Rusal,
That would put the majority of his valuable assets in Brooklyn and Long Island, given his ownership of the Brooklyn Nets (the value of which has doubled, Bloomberg says), the Barclays Center holding company (not the arena itself, despite common parlance), and 85% share of the Nassau Coliseum lease, and other projects like the Paramount Theater renovation.
The article states:
The Bloomberg Billionaires Index estimates their value at $2.2 billion, while Prokhorov's staff puts the figure at about $3 billion, according to two people close to the company. His remaining Russian assets -- some of which, like the Rusal stake, are likely to be sold -- are worth $2.3 billion, according to Bloomberg data. Another estimated $5.7 billion is in cash, those data show.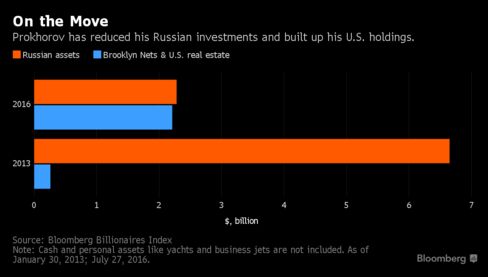 The bottom line
Dmitry Razumov, CEO of Prokhorov's Onexim holding company, told Bloomberg that some proceeds of the Russian sales will be reinvested in the firms finance and energy businesses in Russia. The Kremlin has reportedly denied putting any pressure on Prokhorov.
But the bottom line may be this, according to Bloomberg:
By late last year, Prokhorov had concluded that it was too difficult to keep track of the Kremlin's ever-changing rules for oligarch behavior and that only businessmen from Putin's inner circle could succeed in Russia, according to people close to him.
In New York, the posture is more hands-off.