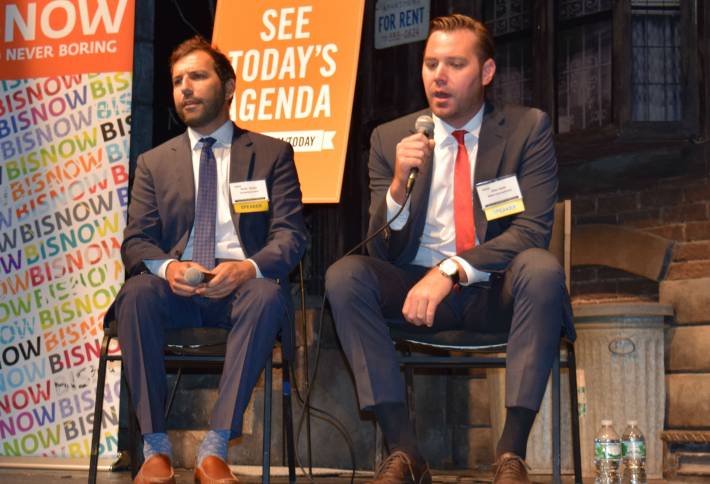 Solish (l.), via Bisnow
From the real estate publication Bisnow,
5 THINGS RESIDENTIAL DEVELOPERS SHOULD NEVER DO
:
[Greenland USA director of development Scott Solish] also pointed out that Greenland's Pacific Park project in Brooklyn will include an eight-acre park built above a former rail yard that'll be open to the public 24/7 and help connect parts of the borough that had been cut off from each other, plus a new public school.
I don't know whether that sentence is verbatim Solish, or journalistic shorthand, but there are several errors.
Actually, it
won't be a public park
, but rather publicly accessible, privately managed open space.
It won't be open 24/7--though there won't be gates, official hours, according to the project's
Design Guidelines
, will be open from 7 am to 8 pm (or sunset, if later) from Oct. 1 through April 30, and from 7 am to 10:30 pm from May 1 through Sept. 30. (By contrast, city parks are
typically open
far more hours, from 6 am to 1 am.)
Only pieces of the open space will actually be over the Vanderbilt Yard; the single largest component is the bed of Pacific Street, demapped between Carlton and Vanderbilt avenues.
Will the green space connect parts of the borough? Well, somewhat, but mapping new public streets--and open space at the street line, rather than behind buildings--would do more.
As for the new public school, it will only partly meet the demand caused by the new residential population.