According to a 1/4/19 post on the blog of the ticket reseller TicketIQ,
Islanders 2019 Tickets: Nassau Prices Are 83% Higher Than Barclays Center
, the demand is on Long Island.
Though the renovated Coliseum seats 13,500 for hockey, about 2,000 fewer than Barclays Center, the attendance has been higher in Nassau--here's
Newsday's tally
--and so too is the demand for tickets.
The blog reports that $160 is the average price for resale tickets at the final six games at Barclays, while $294 is the average at the Coliseum, but that's not necessarily an exact proxy: the averages have to do with the tickets available.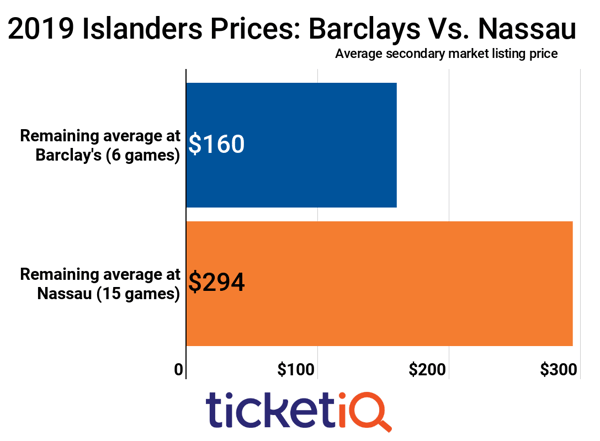 Notably, the biggest demand in Nassau is the for the Feb. 28 game against the Toronto Maple Leafs, who have the former Islanders star John Tavares, while the biggest demand at Barclays is Jan. 12 against the crosstown rival New York Rangers.
So expect this to fuel the argument to move more/all Islanders games to Nassau over the next two years, during the expected development of the Belmont Park arena, rather than splitting them with Barclays.