In account of Barclays-MSG rivalry, CEO Yormark claims there are "385 country bars" in Brooklyn (!); Brokelyn tries to check
The Hollywood Reporter offers
Barclays Center vs. Madison Square Garden: New York's Latest Rivalry Heats Up
, pointing out how Barclays rose while MSG was closed for renovations:
"Barclays got a stroke of luck that the Garden was closed," sniffs heavyweight music manager Irving Azoff (the Eagles, Van Halen and Christina Aguilera, among others), who last year partnered with MSG on a new management-publishing-production company called Azoff MSG.
...Of course, the view from the other side of the East River is totally different. With more than 300 events since opening, Barclays was the top-grossing venue in the U.S. last year. It has been averaging $6 million a month from live concerts (including many by former shareholder Jay Z) and has branched out to event programming like the Rock and Roll Hall of Fame's induction ceremony. And while it doesn't have MSG's cash-cow sports franchises, like the Knicks and the Rangers, it does have the Nets, and soon the building will be getting ice ready for the relocating Islanders.
Unmentioned is that the Barclays Center is
making far less money
than predicted.
The country boom and Yormark's whopper
The interesting stuff comes when Barclays Center CEO Brett Yormark yammers:
"There are areas we haven't done as well as we would have liked," concedes Yormark. "Country music is the perfect example. Many artists haven't been to Brooklyn. They don't understand that there are 11 subway lines and the Long Island Railroad here -- that it's easy to get fans from all over the tristate area. We have to educate them about the fact that there are 385 country bars in the borough."
Wow, "385 country bars" in Brooklyn. Maybe 385 bars with someone with the letters H-A-N-K in their name. I queried Shannon Brown of
Gotham Holler
, which keeps a country music calendar, and she wrote:
I would consider a "country bar" means the bar plays country music almost exclusively, and/or has live country/bluegrass/Americana bands performing the majority of the time. I'd also expect some country food, booze and atmosphere.

I'm pretty sure 385 country bars is a huge exaggeration. If that were the case my band, Trailer Radio, would be gigging every night. I would estimate more like 10 exclusive country bars in Brooklyn (not including Long Island)

.
NYC Mayor Fiorello LaGuardia once said, "When I make a mistake, it's a beaut.'' When Brett Yormark tells a lie, it's a whopper. When I tweaked him on Twitter, Yormark, ever defensive, tried to
attack me
.
Brokelyn explores
Brooklyn is a borough of many tastes all colliding together at once, which gives you plenty of options when it comes to nightlife. If you're into it, we probably have it. With that being said, it still struck us as odd that Barclays CEO/sentient hashtag Brett Yormark told the Hollywood Reporter that Brooklyn has 385 country bars (thanks to a heads up from Atlantic Yard Report's Norman Oder). That's a lot of twang! And also possibly just made up out of thin air? Join us in trying to name all of these bars.
...I had a friend who did a country music residency at Union Pool for a few weeks, but that seems like a stretch. One Brokelyn contributor offered the theory that Yormark meant "385 bars that play Johnny Cash singles sometimes," but then we'd think the number would be higher. Oder checked with an actual country fan who told him that she could name ten country bars, which still leaves us 375 short. We really want to know where those 375 bars are though, so we can add them to our thriving tour business. If you've got some we missed, leave them in the comments.
Some of the answers are kinda fanciful, like "Jasper T. Jowls' Moonshine Distillery, Atlantic Terminal."
The rivalry

In the Hollywood Reporter article, Azoff calles Barclays' early success "fluffy numbers," which reflects--unmentioned--that the Brooklyn arena has reportedly made deals very favorable to lure artists.
The Hollywood Reporter says the math backs Azoff:
Since reopening in October, MSG has sold about 35 percent more tickets than Barclays, with the Garden averaging 10,682 per live concert versus 7,287 for Barclays, according to Pollstar.
Meanwhile, booker Larry Webman says Barclays offers more flexibility than busy MSG and "more favorable union arrangements and a better curtaining system." So there may be more money to be made in Brooklyn.
Update
The
Daily News
, in a gee-whiz 4/21/14 article headlined
Barclays Center looks to cash in on Brooklyn country
, reported:
The nod toward Nashville comes a week after Barclays CEO Brett Yormark cited a search of country bars in Brooklyn that he said turned up a whopping 385 Yelp results.
My comment: Brett Yormark's skills at using Yelp are limited. See for example
http://t.co/D4dxWB3Mv4
.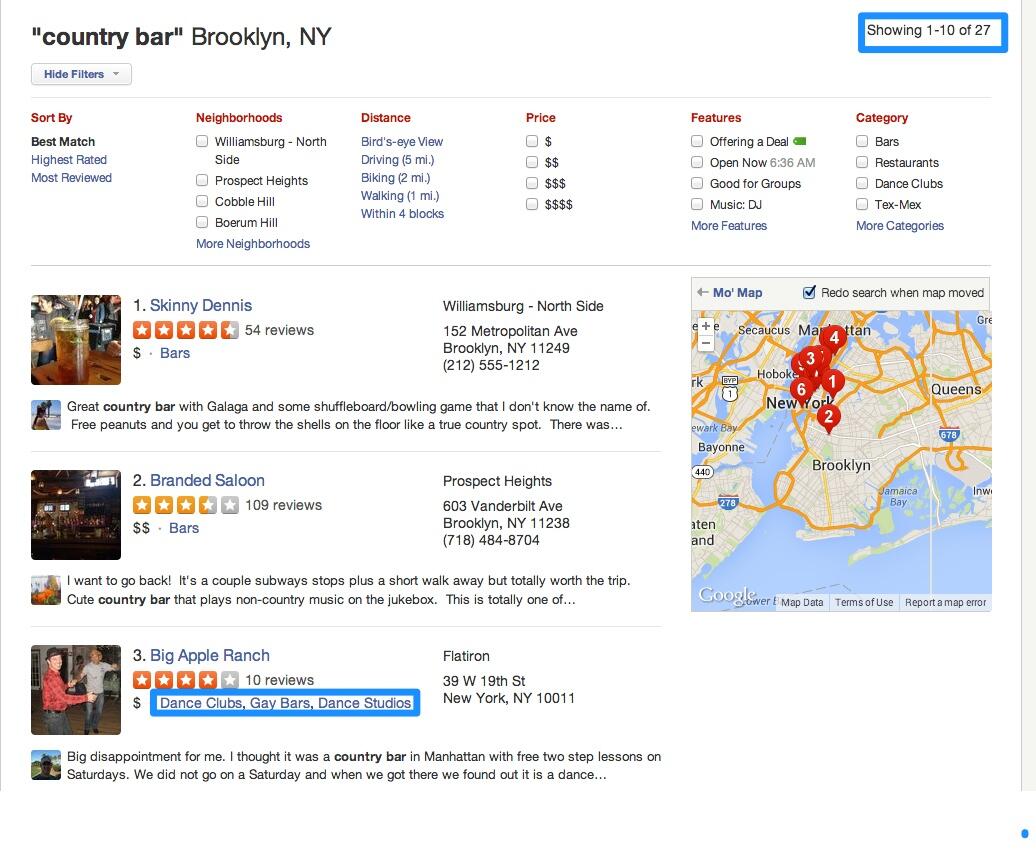 That doesn't get you close to 385. Or Brooklyn.