Nets, furthering ties to Brooklyn, unveil (branded) training facility on roof of Sunset Park warehouse
On Thursday, 6/26/14, the Brooklyn Nets formally announced plans to renovate a Sunset Park warehouse on Industry City on 39th Street into a rooftop practice facility, the awkwardly named (because they have to sell naming rights) Hospital for Special Surgery Training Center.
It's supposed to open in the fall of 2015. The price tag is estimated at $45-$50 million.
The move should make the team's connection to Brooklyn much more firm, and is likely to induce some players, who now live in Manhattan to manage practice in New Jersey (at the PYN Center in East Rutherford) and games in Brooklyn, to move to Brooklyn. (Downtown towers? Bay Ridge? DUMBO? Atlantic Yards itself?)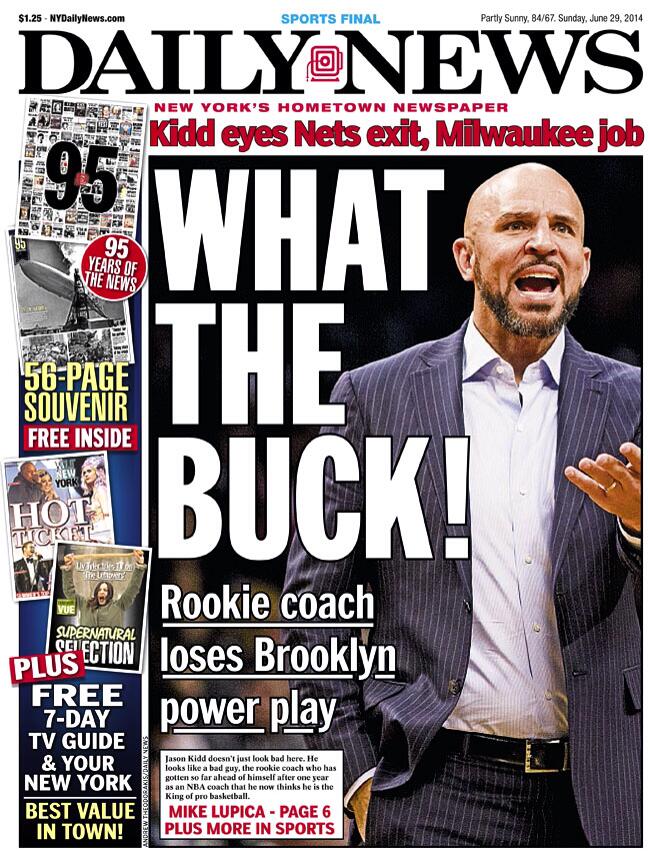 (One irony: talking up the practice facility on Thursday was Coach Jason Kidd, who, after losing an apparent power play to gain more control of basketball operations, is
likely leaving
for the Milwaukee Bucks.
According to
Daily News columnist Mike Lupica, the move--given the Nets' mixed record and limited upside--might be a wise thing for Kidd.)
Changing the Sunset Park waterfront
The move has been touted as part of Industry City owner Jamestown Properties' long-term plans to gentrify the industrial complex, as with Chelsea Market in Manhattan. DNAInfo reported:
The 16-building, 30-acre property has a growing roster of artists, home décor designers, cut-and-sew shops and other tenants, like a vodka distillery that offers tours of its space and the popular Hamptons vintage furniture storeRuby Beets.
On weekends, Mister Sunday brings family- and pet-friendly outdoor dance parties to one of its courtyards, and Rooftop Films hosts indie movie screenings atop two buildings that overlook the New York Harbor. Industry City is host to a growing number of artsy events, like this weekend's NYC Urban Tattoo Convention, bringing 150 local and international artists to showcase their skills for three days of ink.
...Industry City also redesigned the loading docks between two of its buildings to create a new courtyard where tenants and visitors can get, for instance, food from Country Boy Tacos and Sottocasa Pizzeria or have sangria and beer from Botanica's pop-up bar.
"Long-term, our vision for retail will include more than the food that is produced on-site," Kimball said, "the idea being that what's made here should also be sold here."
Well, there's good highway access and may be a new ferry, which would help bring visitors. But it's a long way from the subway (one long express stop on the D or N from Barclays Center), so I think the Meatpacking District comparison is overblown.
The press release
Brooklyn Nets Announce Hospital for Special Surgery Training Center in Brooklyn
Team's World-Class Training Center to Open for the 2015-16 NBA Season
Brooklyn, NY – At a press conference this morning, the Brooklyn Nets announced their plans to build a new state-of-the-art training center in Brooklyn, featuring panoramic views of New York Harbor, which will serve as the team's practice site starting with the 2015-16 season. Hospital for Special Surgery (HSS) will be the naming rights partner for the facility, which will be known as Hospital for Special Surgery Training Center. The Nets Basketball Operations Department will be relocating from its current practice site in East Rutherford, NJ, and will be bringing more than 60 full-time jobs to Brooklyn.
The privately funded training center will occupy 70,000 square feet on the eighth floor and rooftop of a historic waterfront warehouse in Industry City situated on 39th Street in the Sunset Park neighborhood. Located one subway stop from Barclays Center, the facility will boast world-class amenities, which will include two full basketball courts, a weight room, a training pool and two hydro pools, a rooftop entertainment space, an 18-seat multimedia theater, 3,000 square feet of hospitality/players' lounge space, and a media interview/workroom. The exterior design, consisting of dark metal, brick, and a wide expanse of glass, is set against the interior finishes which combine an industrial vibe with softer natural materials like recycled wood and tiles, to create a harmonious spa-like environment. The result is an overall design which celebrates Brooklyn's gritty manufacturing history while reflecting its eco-friendly mentality.
"I am thrilled to see the Nets complete their move to Brooklyn by building their state of the art practice and training facility in Sunset Park and creating over 200 jobs in the process," said Mayor Bill de Blasio. "And I applaud them for ensuring the local community also has a home in this facility — with job fairs for Sunset Park residents, community events for young people, and investments in the neighborhood's quality of life."
"We are thrilled to have the HSS Training Center become the new Nets' practice facility," said Irina Pavlova, President of Onexim Sports and Entertainment. "With its proximity to Barclays Center and the vibrant Sunset Park neighborhood, Industry City is the perfect location for it. Now, our arena, training center and offices will all be together in this great borough. The team's ownership is committed to making the Brooklyn Nets a championship caliber team, and a best in class team deserves a best in class training center."
As part of the naming rights entitlements, HSS will receive branding on the interior and exterior of the facility and the Nets practice jerseys will feature the HSS logo. The hospital will also have the opportunity to host experiential events for patients and physicians at the facility, which will include participation from Brooklyn Nets players, coaches, and strength and conditioning staff. Dr. Riley J. Williams, III, a sports medicine surgeon at HSS, has served as the team's Medical Director since the 2005-06 season and will continue to serve in that function, while also expanding his role to include Head Orthopedic Surgeon with the Brooklyn Nets.
HSS is also building on its nine-year relationship with the team by becoming the Official Hospital of the Brooklyn Nets beginning with the 2014-15 NBA season. As the official hospital, HSS will receive signage, player appearances, integration into a grassroots community marketing activation, and specialized content on BrooklynNets.com.
"As the nation's leading orthopedic hospital, HSS is deeply rooted in the growth and development of New York City," said Louis A. Shapiro, President and CEO of HSS. "We have grown with the Nets from East Rutherford, to Newark, and finally to Brooklyn. We are thrilled to be a part of this landmark project by putting our name to HSS Training Center, while continuing to provide Nets players with the best in musculoskeletal care."
"Our partnership with HSS is an ideal fit," said Brett Yormark, CEO of the Brooklyn Nets and Barclays Center. "We bring together two recognized brands defined by performance, community commitment, and global reach. HSS Training Center will be serving world-class athletes, while also making a difference in the borough as we utilize the facility to mentor and inspire young Brooklynites."
"In Brooklyn, we're 'nothing but Nets'! It's a 'slam dunk' to bring every member of our home team, including its entire staff, into our home borough," said Eric L. Adams, Brooklyn Borough President. "Industry City and the greater Sunset Park community will benefit from a strong partnership with the Nets, and all Brooklynites will benefit from the boost in local employment and economic activity associated with the new practice and training center."
"I am proud to welcome the Nets to Industry City and our Sunset Park neighborhood," said Councilman Carlos Menchaca, who represents Sunset Park. "I look forward to working closely with the Nets to support our ongoing community work, from economic development to environmental justice to youth programming. I am committed to building a strong partnership with the team that fully integrates them in our vibrant community, which is home to hardworking immigrant families, community based organizations and industrial businesses."
"The new HSS Training Center highlights the importance of sports medicine and performance training working seamlessly and collaboratively in the approach to player care," said Dr. Williams. "NBA basketball is a physically challenging sport that is played over many months. A close knit relationship between the team and its medical personnel is vital to injury prevention, effective treatment and ultimately the professional athlete's return to play."
"As a former player and patient at HSS, and now a coach, I know the hospital provides an unmatched level of expertise and care," said Jason Kidd, Head Coach of the Brooklyn Nets. "HSS Training Center will give us a competitive edge, providing a state-of-the-art facility for our players to get ready and be at their best."
"In repositioning this relic of the industrial age into a home for a wide range of emerging and modern businesses, Industry City is becoming one of New York's most dynamic properties," said Glen Siegel, founder of Belvedere Capital, co-owner of Industry City. "The Nets' investment here, and deepened commitment to the borough, will have a citywide impact for many years to come."
In addition to serving as the training ground for the Brooklyn Nets, the facility will host youth basketball clinics, community events, and local business development functions. The team will also expand its role in the neighborhood by offering a job shadow program, internships, and Barclays Center job fairs for Sunset Park residents.
Construction on HSS Training Center will create between 150-200 union jobs and will begin in 2014. MANICA is the design architect and New York City firm Mancini Duffy is the architect of record.
Cushman & Wakefield, led by Bruce Mosler and Glenn Markman, served as a key advisor to the Nets on the leasing transaction.
In the press
The Daily News
reported
:
On the Sunset Park waterfront with a beautiful view of the city skyline, standing adjacent to its nearest place of business — a strip club called Peyton's Playpen — is an empty warehouse that represents the Nets' transformation to full-fledged Brooklynnites.
In about a year, they're cutting their last significant tie to New Jersey.
...The theme of Thursday's press conference was the location in Industrial City, and GM Billy King worked in a dig at the Knicks by noting that the Nets will be the only team to have its practice facility within the city limits (the Knicks practice in Greenburgh). Coach Jason Kidd cracked that he won't spill any sodas when it opens, before turning serious about the advantage in attracting free agents.
More
links
, from Nets Daily.
A video
Here's Onexim Sports and Entertainment President Irina Pavlova
interviewed
by NetsDaily: